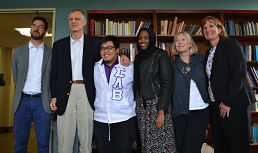 On May 8th, the Human Rights Program, in collaboration with the Center for Holocaust and Genocide Studies, held an awards ceremony to recognize the tremendous work of undergraduate students in the field human rights. Alongside the work of the Human Rights Program Student Advisory Board, the event celebrated the contributions made by students
Aisha Galaydh
and
Kenneth Gonzales
with the Inna Meiman Award and Sullivan Ballou Award, respectively.
Following opening remarks by Professor Alejandro Baer, Professor Lisa Hiblink of the Department of Political Science delivered the keynote address titled "Beyond the Transitional Paradigm: The Human Rights Challenge for Millennials." In her speech, Hilbink discussed the challenges faced today in the development and promotion of human rights standards as they compare to other times, such as during and following what is now known as Democracy's Third Wave. Most importantly, Hilbink acknowledged the importance of a continued drive for and interest in human rights, which matches closely with the descriptions of the awardees for the annual human rights awards.
Given in recognition of the friendship between Inna Meiman, a Soviet era Jewish refusenik repeatedly denied a visa to seek medical treatment, and Lisa Paul, a graduate of the University of Minnesota who fought on her behalf, the Inna Meiman Human Rights Award recognizes a University of Minnesota student who embodies a commitment to human rights. From her work in the community to her advocacy on campus and leadership in cultural clubs, Aisha Galaydh, the 2015 winner, has shown to embody the spirit emphasized in the award. Not only does she recognize the presence of human rights efforts but she also has been able to play an active role through these avenues in disseminating knowledge, awareness, and patterns for improvement.
Likewise, the Sullivan Ballou Award, named after Major Sullivan Ballou, who killed in the U.S. Civil War, celebrates those who act from the heart--those who provide compassion, services, and advocacy to their local communities through their actions, words, or presence. The 2015 awardee, Kenneth Gonzales, has dedicated his studies and time to his passion in advocacy for various minorities in various contexts. Be it in Greek Life, regional cultural and ethnic summits, or activities in the local community, Gonzales has shown a strong dedication for the advancement of and support for rights, recognition, and protections for those whose voice is not normally heard.
The luncheon also highlighted the accomplishments of the Human Rights Program Student Advisory Board. This past year, the Advisory Board was involved in many events and campaigns to raise awareness of human rights. In December, it took part in the International Human Rights Day Panel, which discussed issues, advancements, and characteristics of human rights issues past, present, and future, and the Board took part in a clothes drive campaign to recognize International Women's Day on March 8th. Additionally, its members were recognized for their commitment to human rights, in general, with a special acknowledgement of graduating seniors:
Patrick Alcorn, Joe Fifield, Erik Katovich, Kailey Mrosak, Dani Prigozhina, Kayla Sloane, and Annie Wood
.
We commend the work of all these students to the field of human rights, and we look forward to what will come of their contributions.