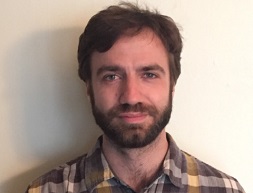 Mike Alberti, the Human Rights Scribe for 2015, is a second-year Master of Fine Arts candidate in the Creative Writing Program at the University of Minnesota. Alberti comes to the fellowship with an interest in the connection between writing and expression for prisoners in Minnesota. For the past year, he has been working with a group called the Minnesota Prison Writing Workshop (MPWW), a local non-profit organization that provides creative writing classes in Minnesota state prisons. The Scribe fellowship will allow him to continue teaching in prison over the summer, as well as to assist with administrative duties, including helping to organize a public reading of the work of incarcerated writers.
"Writing is one of the few opportunities that incarcerated people have for self-expression and exploration, one of the few avenues of empowerment in a extremely disempowering environment," Alberti said. "I believe that the work MPWW does is part of a larger moral vision, a vision which recognizes that all people - even those who have committed crimes - are deserving of dignity and respect. This vision is the essence of human rights, and I am very honored to be able to continue this work through the Scribe fellowship."
Alberti has an extensive background in writing and public service. He has written for various news outlets and has worked to raise awareness of rights around the world, having worked with shelters and groups to assist with the struggles of many Latino migrants and having advocated for the rights of small communities in Honduras. Alberti has published most recently as a student on issues related to employment, education, and health.
The Scribe fellowship was established by the Human Rights Program and Creative Writing Program in the Department of English in January of 2006 to provide support each year for a Master in Fine Arts student in the field of human rights. The goal of the fellowship is to allow a student to become engaged in specific issues of and with the individuals involved in the public human rights work of the Human Rights Program. Through such experiences, the Scribe will be able focus on a narrative and write to a broader audience on the various matters of concern related to the complex dimensions of human rights.
-written by Cameron Mailhot