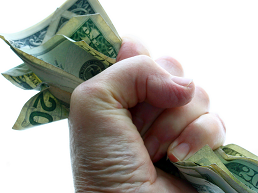 Earlier this semester, Carrie Oelberger presented her research project called "A Thousand Wildflowers or a Formal Garden? International Grantmaking and the Structuring of Transnational Society" at the Humphrey School of Public Affairs. The project addresses the way in which foundations disproportionately disperse the majority of their grant money to NGOs in first world countries rather than concentrating on giving money to organizations located in developing countries. She questions if grant giving takes the organized form of a metaphorical garden or if funding is more scattered and diverse, as in a field of wildflowers.
In her talk, Dr. Oelberger discussed the impact of NGOs in development and how such impact heavily relies on the funding they receive from various foundations. Carrie observed that the majority of money foundations grant is given to NGOs based in countries that are part of the Organization for Economic Co-operation and Development (OECD) and undertake development work abroad, the majority of whom are first-world countries. Only 14% of the money foundations give are granted to organizations outside of OECD countries and do work domestically. Her observations led her to question the attachment patterns between foundations and the NGOs they support.
Oelberger hypothesized that uncertainty and risk heavily influence who foundations choose to fund. Therefore, NGOs that have personal networks with foundations are more likely to receive funding. Furthermore, Dr. Oelberger identified three ways in which foundations can find NGOs with which to partner. They can either renew relationships with organizations with which they already work, visit organizations in developing countries and make assessments about their willingness to partner with these organizations, or consult other foundations to inquire about which NGOs they partner with. However, in order to avoid risk, foundations usually either renew existing relationships or consult other foundations rather than finding new foundations in developing countries that may need funding. Thus, Dr. Oelberger observed that those organizations that already have funding acquire more, while those who do not have relationships with foundations continue to experience lack of funding.
The data Dr. Oelberger collected supports her hypothesis. The data shows that nearly 10 times as much money is given to NGOs in OECD member countries than non-OECD member countries. The majority of grants given outside of the OECD were to NGOs with which the foundation already had a relationship. However, over two thirds of foundations support NGOs in non-OECD countries that have not been previously funded.
Dr. Oelberger hopes that her work will contribute to distinguishing between NGOs in non-OECD countries that have received funding due to being referred to from a different foundation and those that foundations have independently found and taken initiative to fund. In the future, she hopes to do more research on foundations' subjective perceptions of risk and the organizational frameworks that make foundations more likely to explore new NGOs to fund rather than funding those who already receive multiple grants.
Carrie Oelberger is an Assistant Professor in the Humphrey School of Public Affairs. She holds a PhD in Organization Studies from Stanford University and is a Professor of Nonprofit and Public Management and Leadership. Her research focuses on the influence that work has on the private lives of those working in careers that focus on public service as well as how the institutionalization of scholarship and philanthropic investment have affected the organization within the prosocial domain.
-written by Mary Mikhaeel