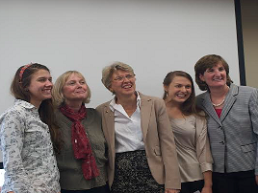 Each spring, the Human Rights Program and the Center for Holocaust & Genocide Studies celebrate the tremendous work of students in human rights with the Inna Meiman Award and the Sullivan Ballou Award. Faculty, staff and students are encouraged to nominate an undergraduate student who has truly been impressive in their human rights work. Self-nominations are also accepted. The awards will be given out at a luncheon ceremony on Friday, May 8th.
Applications and Nominations due April 15th at 5pm.
Letters of nomination (750 words or less) and résumé/CV should be submitted by email to the Human Rights Program hamm0229@umn.edu or delivered to the Human Rights Program office 214 Social Sciences. Self-nominations must include a letter of recommendation.
For more information please call 612.626.7947 or email hamm0229@umn.edu.