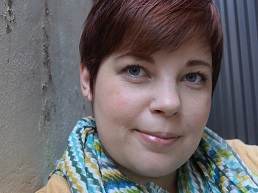 As part of the first workshop of the Holocaust, Genocide and Mass Violence Studies Interdisciplinary Graduate Group workshop series, Amber Michele, a graduate student in the interdisciplinary Master of Liberal Studies program delivered a talk on "American Islamic Organizations: Response Narrative to Counterterrorism Initiatives." Michele's current research examines how counterterrorism initiatives impact Muslim organizations in America and is particularly interested in examining how the pressure of policing destabilizes Islamic civil society in the U.S. Michel works extensively with local Muslim communities on issues of civil rights, law enforcement and discrimination.
Michel found herself at an advantage, by living in the Twin Cities, to study how counterterrorism measures impact local Muslim communities. Michele's research involved analyzing national Muslim institutions and conducting personal interviews with local members of the Muslim community, administrative members of local organizations that identify as Muslim, and organizations directly involved in supporting or opposing counterterrorism initiatives. Her research led her to pose a fundamental question: How does a community that is under intense scrutiny respond both organizationally and individually and what is the impact of such a response?
Michele assumed that Muslim communities would be strongly against counterintelligence initiatives as they invade their rights to privacy. However, through her research, Michelle was able to categorize the Muslim community's response to counterintelligence measures as accommodationist. Accomodationism is a concept that finds its origins in the period after the Civil War when Southern white leaders and African American leaders came to an agreement that black workers would submit to white political rule if the Southern whites would agree to grant them basic education and due process in the law. Michel argues that those in the Muslim community have adopted this notion and therefore, do not strongly resist counterintelligence initiatives. Instead, the Muslim community is working hard to tell their own narrative of American allegiance, their own condemnation of terrorism and their activism in de-radicalization programs.
However, Michel hypothesizes that the messages displayed by larger Islamic organizations of overall acceptance of counterintelligence results from outside pressures and policing and does not necessarily represent the main sentiment of the average Muslim citizen. While websites of national organizations seem to tell a story of de-radicalization and acceptance of counterintelligence, the sentiment in personal conversations portray a different narrative. There also seems to be general consensus that U.S. foreign policy needs to take into consideration the opinions of the local Muslim communities.
For a full schedule of Holocaust, Genocide, and Mass Violence Studies workshops in the spring semester, click here. All workshops will be held in room 710 of the Social Sciences building.