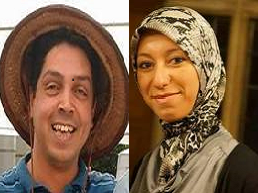 The University of Minnesota and the Humphrey School of Public Affairs are excited to host Meriem El Haitami and Dr. Rachid Touhtou from Morocco as visiting scholars for the 2015 Spring term. As recipients of the Andrew Carnegie Centennial Fellowship in Support of Visiting Scholars in the Social Sciences from Arab Universities, they will work with Humphrey School Professor James Ron on human rights issues specific to their interest.
The Human Rights Program talks to the two scholars about their work at the Humphrey School, their research interests, and how they see their time at the University contribute to their work. Here are excerpts from the interview:
Could you tell us about your work at the Humphrey School?
Dr. Rachid:
My work at the Humphrey School would involve working on a research project related to the civil society in Morocco and mainly the human rights sector under the supervision of Dr. James Ron. I will first attempt to map the literature on civil society actors, their trajectories, their discourses and how they use the human rights approach in their activism. Secondly, my research will also see through all the existing data, surveys and literature for human rights research in Morocco, the issues covered so far and compare it to the research done on human rights at the Humphrey School. The purpose is to write an academic paper where we attempt to review, compare and bring original contribution on human rights activism and discourses in Morocco.
Meriem:
My work at Humphrey includes working on a proposed research that explores the dynamics of female activism within Islamist groups in Morocco's (post) Arab Spring. I will also work with Professor James Ron on a survey on human rights activists and the public that he conducted in Morocco and eventually co-author an article based on the data.
Could you elaborate on your specific research interests and its implications for Morocco and the region as a whole?
Dr. Rachid:
My research on social movements is an attempt at understanding their repertoires, forms of activism and historicity. Social movements in Morocco are much politicized actors within the arena, their influence on the political culture has proved very challenging to the regime throughout history, including the pre and post Arab Spring eras. Social movements in Morocco are getting globalized in the sense that their agendas are linked to region (the Maghreb) as well as the world (anti-globalization, anti-capitalist, anti-war).
Meriem:
My doctoral research explores the ways female embodied religion and activism are debated and shaped by different religious and political actors. I try to capture the diversity of contemporary female Islamic leadership and the novel constructs of religious feminist expression in contemporary Morocco. I am particularly interested in the mainstreaming of gender approach to Morocco's counter-radicalization strategy that is closely associated with the state's discursive use of religion to underscore Morocco's 'exceptionalism' in the region. I focus on religious reform that Morocco launched in 2004 (as a result of the terrorist attacks that hit the country in 2003) and the deployment of female imams as active actors in preserving the country's 'spiritual security'. I argue that this contributes to promoting the role of religious actors in local, national, and international life, from providing religious and social counseling to their communities to shaping larger social and political debates. They become a model of faith-based engagement and constitute potentially important partners in promoting socio-political cohesion and maximizing opportunities to include religion as a development model as it touches on areas of socio-economic development and women's empowerment.
What are some of the other movements affecting (in a positive sense) women's political and religious participation in the Middle East North Africa region? What has been your experience with women's rights in the MENA region?
Dr. Rachid:
Women's rights in the MENA region are a very complex issue where various layers interfere, mainly the religious and the political. The issue is becoming visible in the public sphere though there are regressions in the area of economic, political and civil rights. The issue is evolving in a region where radicalization, lack of good governance practices and absence or strong presence of states coexist to make women's rights a pressing issue in the region.
Meriem:
Popular mobilization generated by the Arab Spring has also forged new modes of female political expression. Women- especially young female activities- have played a central role in street protests and in the creation of a virtual public sphere through social media, as well as the physical public sphere, this has created competing counter publics that subvert mainstream political action. This also provides a nuanced perspective on women's activism and challenges the monolithic view of women's experiences and socio-political activism in the MENA region.
How do see the time that you spend at the University of Minnesota contributing to your work?
Meriem:
The Carnegie Fellowship will offer me an opportunity to interact with other scholars and colleagues and thus develop my cross-disciplinary interests. It will also help me contribute to contemporary debates on women's religious activism in the MENA region, as well as provide insight into subfields within the broader study of religion and politics.
Dr. Rachid:
This is a great opportunity for me here at all levels. At the intellectual level, this is a good place for intellectual development, being exposed to experts and multinational researchers. At the professional level, it will give me the opportunity to develop my research internationally, and measure my work in comparison to other experts. At the personal level, I am sure I will make new friends, new connections and enjoy the place which is a great city with great people.