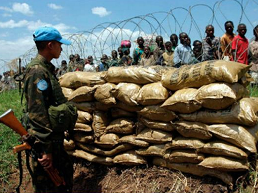 On February 9, the Minnesota International Relations Colloquium hosted a discussion with Séverine Autesserre, Assistant Professor, Department of Political Science, Columbia University, about her recently published book,
Peaceland: Conflict Resolution and Everyday Politics of International Intervention
(Cambridge University Press, 2014). While Dr. Autesserre specializes in international relations and African studies, her current research examines how everyday elements influence peacebuilding interventions on the ground.
Dr. Autesserre has conducted extensive fieldwork between 2010 and 2012 with a primary case study on the eastern Democratic Republic of Congo as well as comparative research in Burundi, Cyprus, Israel and the Palestinian Territories, South Sudan, and Timor -Leste. Prior to conducting research for her recently published book, Dr. Autesserre wrote another book on local violence and international intervention in the eastern part of the Democratic Republic of the Congo. Dr. Autesserre has won numerous awards for her work including the 2013 African Politics Conference Group's Best Article Award, a nomination for the 2007 APSA Helen Reid Award for Best Dissertation in International Relations, and the Presidential Research Award at Columbia University. Her current work won the 2012 Grawemyer Award for Ideas Improving World Order, as well as the 2011 Chadwick Alger Prize for the best book on international organizations and multilateralism. In addition, she contributes extensively to
The Guardian
,
Washington Post
, and
Al Jazeera
among other publications.
Dr. Autesserre's book is a commentary on the 15 years she spent studying international peacebuilding initiatives in the Democratic Republic of Congo. In it, she argues that everyday practices, habits, and narratives of organizations and peacekeepers on the ground strongly impact the effectiveness of international intervention efforts. During her stay in Congo, she observed different third party groups in the area intervening as peacekeepers. She recognized that these groups were operating in ways that are inefficient, ineffective and at times, counterproductive. Autesserre observed a large disconnect between the members of the community and the peacekeepers; rather than interacting with community members and asking for their input, peacekeepers implemented their own tactics, disregarding the culture and ideas of the people living there. Many groups focused on macro-level national and international solutions to problems while ignoring everyday practices that greatly influence the success of peacekeeping efforts. While this is important, Dr. Austesserre notes the ineffectiveness of using large scale, general solutions that are not tailored to fit individual communities.
Seeing a large gap in existing research on the specifics of peacebuilding and everyday practices, she began her research on the habits and narratives of the people in small communities and how the peacekeepers affected them. Dr. Austesserre concluded that peacekeeping interveners often constrict knowledge by acknowledging what seems to be true only on an institutional level. Other sources of knowledge from local individuals are often neglected. Therefore, peacekeepers generally have little knowledge of the area in which they are going. It then becomes problematic when peacekeepers enter an area where they are meant to provide expertise, yet, they themselves know nothing about the location. This also creates problems as peacekeepers very rarely have the correct skill-set to thrive in the culture they are entering, including the ability to speak the language. Often, their detachment from the situation creates resentment among the local population. Therefore, by ignoring the culture and input of the local communities, peacekeepers unintentionally construct a hierarchy that minimizes local input.
Austesserre recommends that in order to make peacebuilding more effective, international peace interventions must rekindle the balance between local and institutional knowledge, change recruitment to require peacekeepers to be familiar and comfortable with an area and culture, involve local partners, and ask for tools and ideas from local communities. Being more aware and inclusive of local populations will break boundaries between them and the peacekeepers and create a more effective process with sustainable results.
-written by Mary Mikhaeel