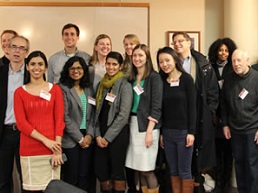 The University of Minnesota's Humphrey School of Public Affairs, the Human Rights Program, the Center for Holocaust and Genocide Studies, the Human Rights Center, and the Program in Human Rights and Health will work with renowned international human rights organization Human Rights Watch (HRW) to evaluate the organization's research and advocacy work. The collaboration is made possible through the structure of a Capstone project conducted by graduate students enrolled in their final semester in the Humphrey School and other programs including the Human Rights Program.
As part of this Capstone, students will document the various ways in which the organization collects its data, evaluate its research methods, and offer recommendations for improvement.
Students will first identify the ways in which HRW collects its data, including confidential interviews with witnesses, officials, security force personnel, key informants, and vulnerable populations, as well as satellite images and quantitative data. Students will also interview members of HRW's global research team exploring the pros and cons of each method, finally drawing on best practices from other organizations and on scholarly literature to evaluate HRW's practices, and suggest new areas for investigation. Students will work with James Ron, Humphrey School faculty member and Harold E. Stassen Chair and Mary Curtin, diplomat-in-residence.
The initiative has been lauded by the University as well as the rest of the Minnesota community as identified in the
piece
describing the significance of this collaboration and of human rights 'ideas and action'.
Established in 1978, Human Rights Watch is a nonprofit, nongovernmental human rights organization made up of roughly 400 staff members around the globe. Its staff consists of human rights professionals including country experts, lawyers, journalists, and academics of diverse backgrounds and nationalities. Each year, Human Rights Watch publishes more than 100 reports and briefings on human rights conditions in some 90 countries, generating extensive coverage in local and international media. It meets with governments, the United Nations, regional groups like the African Union and the European Union, financial institutions, and corporations to press for changes in policy and practice that promote human rights and justice around the world.