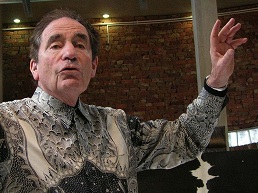 On November 13, the University of Minnesota hosted a screening of the film "Soft Vengeance" followed by a discussion with filmmaker Abby Ginzberg . The event was part of the Interdisciplinary Center for the Study of Global Change distinguished lecture series. The documentary focused on the life of jurist and activist, Albie Sachs and South Africa's fight against the apartheid regime. At a young age of 17, Albie Sachs attempted to start a movement by purposely sitting on a non-white bench.
He was arrested but was sent home since he was a minor. The incident didn't stop him from striving for people's rights and freedoms. He became a lawyer at the age of 21 and supported people who were committed to ending the apartheid. In 1980, he was imprisoned in solitary confinement where he was tortured through sleep deprivation. He was released after 168 days and was then exiled from South Africa.
Albie Sachs moved to London where he raised two children and worked on becoming a writer. However, he longed to go back to South Africa. He went to Maputo, Mozambique to continue his work where he soon became a target of the South African government's repressive measures. On April 7, 1988 Albie Sachs was hit by a car bomb placed outside his car by a South African security worker. The attempted assassination cost Sachs his right arm and the sight of one eye. Sachs spent a year recovering in a hospital in England.
During his imprisonment, exile, and recovery, several other leaders working to end the apartheid were either targeted to be assassinated or imprisoned. It was after Nelson Mandela was released after 27 years of imprisonment that Albie Sachs returned to South Africa. On returning, they began working on creating the Constitution of the Republic of South Africa. A Constitutional Court was also established and Albie Sachs was appointed to one of the positions.
The documentary brings to the fore the struggle of the people of South Africa and the invaluable contribution of activists like Albie Sachs in restoring values of dignity, equality and freedom in the country.
-written by Mariah Berner