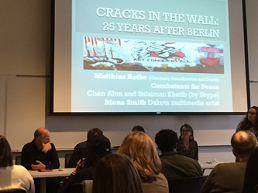 As part of its ongoing "Thursdays at 4" series, the Institute for Advanced Studies, in collaboration with the Human Rights Program, held a panel discussion titled "Cracks in the Wall: 25 Years After Berlin" on November 6. In light of the 25th anniversary of the fall of the Berlin Wall, the panel discussion brought to the fore possible ways to animate the ruptures of divided groups.
Speakers Matthias Rothe of the German, Scandinavian, and Dutch Department; Chen Alon and Sulaiman al-Khatib of Combatants of Peace; and Mona Smith, a Dakota Multimedia Artist, were able to highlight the unique efforts that help provide a new perspective and forms of memory surrounding the events of the Berlin Wall, the Israel/Palestine division, and the US/Mexico Border.
The discussion emphasized the role of theatre, film, and art in representing the division of Germany through Sonnenallee and series of plays, the theatre work done with students, civilians and other combatants by Combatants of Peace to bring together people and understand the Israel-Palestine conflict, and ways to interpret and develop an awareness of the nature of the relations created by the walled border between Mexico and the United States.
The next installment of the series will be held on Thursday, November 13 at 4:00 PM in Crosby Seminar Room, Northrop Auditorium. This panel, "To Embrace Failure? A Multi-Disciplinary Re-Thinking," will touch on the understanding and role of failure in inquiry and processes across disciplines.