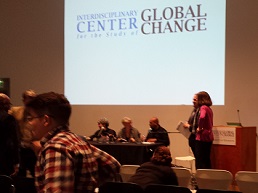 As part of the 25th Anniversary celebrations of the Interdisciplinary Centre for the Study of Global Change, the University of Minnesota hosted a panel discussion titled "Social Justice and Global Change: The University's Role" on November 14. The discussion focused on the University's role in effecting social justice and positive change in the world. The panel was chaired by Raymond Duvall, Professor of Political Science and ICGC Affiliate Faculty, University of Minnesota and included prominent speakers like August Nimtz, Professor of Political Science and ICGC Affiliate Faculty, University of Minnesota, Naomi Scheman, Professor of Philosophy and Gender, Women, & Sexuality Studies and ICGC Affiliate Faculty, University of Minnesota, Barbara Frey, Director, Human Rights Program and ICGC Affiliate Faculty, University of Minnesota and Suren Pillay, Associate Professor, Centre for Humanities Research, University of the Western Cape.
Pillay opened the discussion with a cautionary note articulating that intellectuals can often be dangerous when trying to influence the world. Referring to history and going as far back as 1515, he talked about how Bartolomé de las Casas advocated in his early writings the use of African slaves instead of native Americans in his pursuit to end native American slavery. Pillay emphasized how many interventions in the past have thus had the opposite effect even though they were based on the logic of doing good.
Addressing the apprehension surrounding the term social justice, Frey defined it as fairness in economic and social equity among individuals and groups. She suggested a three pronged strategy for delivering social justice and global change: convening, creating and challenging. While differentiating between good and bad convening, she underscored the need to invite key actors, doers and skeptics to engage in meaningful debate based on research. She also highlighted the University's role in creating global citizens. In her third and final element, she explained how challenging is often a two way process: as a faculty member she is challenged by questions posed by students coming from diverse academic backgrounds but also realizes that to be effective as teachers, faculty members need to be able to explain their work to the outside community and not just students.
Professor Scheman discussed how global change and social justice are connected and highlighted the University's role in doing what is 'trustworthy'. She argued that striving for absolute excellence and doing things for the sake of ranking takes attention away from being a University situated in a particular community setup. She also argued in favor of responsibility as opposed to accountability suggesting that accountability applies to institutions that are comparable and generic.
Describing himself as a product of the civil rights and the anti-colonial movement, Professor August narrated how many social justice movements began on campus and then took shape in communities. He cited the Cuban Revolution as an example of this phenomenon.
While recognizing the growing concern about social justice in and around the University, the panelists provided diverse perspectives on addressing the issue and suggested possible means for effecting positive change in the world.