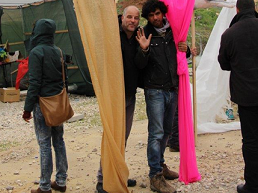 On October 8, the University of Minnesota hosted Combatants for Peace as part of a series of events to commemorate the 25th Anniversary of the fall of the Berlin Wall. Members of Combatants for Peace work towards building peace and understanding between Palestinians and Israelis by breaking the cycle of violence. During the event, the speakers shared their stories of what led them to pursue nonviolent means and reach an understanding between the two sides.
Chen Alon, Co-founder of Combatants for Peace and theatre activist, discussed how he realized that fighting only prolonged the advent of peace. Alon, a former veteran, grew up believing that the Jewish state was surrounded by enemies and that he must protect it. He was drafted in the military in 1987 and saw it as the greatest honor. One day he arrested a ten-year- old child. As he was looking at the child, he began to question his involvement in the military. Continually, in 2001, during a strategy of siege and block, he was positioned at a roadblock when he was asked to allow a taxi full of sick Palestinian children to get to the hospital. At that moment, his wife called to speak about his three-year-old daughter. Alon realized that the Palestinian children were as human as his own. He realized that he was de-humanizing himself by de-humanizing the Palestinians. Alon left the army and is now active in creating alliances with Palestinians to work against injustice and oppression.
Bassam Aramin, Co-founder of Combatants for Peace and a Palestinian activist, experienced the same desire for peace between Palestinians and Israelis. Like Alon, Aramin become involved in the Palestinian struggle at a young age of seventeen when he was caught planning an attack on the Israeli troops and then spent seven years in prison. On 16 January 2007, Aramin's ten-year-old daughter was shot by an Israeli soldier outside her school. Aramin knew revenge wasn't the solution and wanted to set an example for his eldest son. Aramin believes that forgiveness is the first place for healing as it is a way to clean your heart and make peace with yourself. For this reason, when Aramin encountered his daughter's assassin in court, he told that he had forgiven him.
In summary, the event highlighted that peace can be achieved through understanding, self-realization, and forgiveness. Most importantly, it underscored the need to question one's actions while remembering that everybody is as human as the others.
-written by Daniela Prigozhina and Halimo Ismail