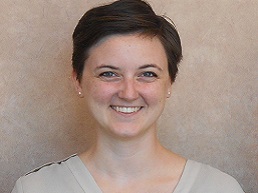 The Human Rights Program is thrilled to announce Christie Nicoson as the recipient of the 2015 Rotary Peace Fellowship. Christie is the Program and Operations Director at World Without Genocide, a human rights organization headquartered at William Mitchell College of Law, St. Paul, Minnesota. She is one of fifty individuals selected this year from around the world for a fully funded academic scholarship. Christie will start her master's degree in Peace and Conflict Studies at Uppsala University, Sweden in fall of 2015.
Christie currently assists Minnesota Senator Sandy Pappas with the international program Forward Global Women, a convening of women peace makers from Middle East and North African countries. At World Without Genocide, Christie organizes educational events, supports advocacy initiatives, and engages community members to build an anti-genocide constituency to stand up for human rights both locally and globally. She previously worked with an organization in Mombasa, Kenya to combat sex trafficking and to provide support for trafficked women. Christie is also a 2014 Carl Wilkens Fellow, a network of professionals building the political will to end genocide. Through this fellowship, she raises awareness about the impact of climate change on global conflict and the use of food as a tool of genocide. As a volunteer, Christie coordinates service projects between Habitat for Humanity, World Without Genocide, and a local Rotary Club. She was named Citizen of the Year in 2014 by the Minneapolis University Rotary Club for her service to the community.
Christie graduated from the University of Minnesota in 2013, where she received her Bachelor of Arts in Global Studies. As a University student, Christie served on the University of Minnesota Human Rights Student Advisory Board and directed a youth mentoring program at the YMCA.