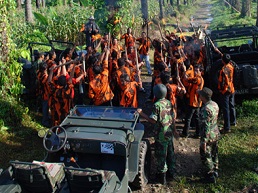 On October 16, students, faculty, and the greater University of Minnesota community attended a screening of the critically acclaimed documentary
The Act of Killing
. The powerful film documents former Indonesian death squad leader Anwar Congo and other gangsters as they re-enact the torture and mass killings they committed in North Sumatra in the 1960s and attempt to come to terms with the atrocities. The film-screening was followed by an enlightened discussion led by expert panelists Catherine Solheim, Rosa Garcia-Peltoniemi, and Simon Robins.
Robins, a Research Fellow at the University of York Centre for Applied Human Rights in the United Kingdom, questioned whether the narrative of the film can be trusted as an accurate account of the mass atrocities. He explained that the power of the film's imagery is the way in which it blurs the lines between reality and artifice, challenging dominant notions that people are either good or evil. As Anwar grapples with both guilt and pride over his actions, the film shows that the truth is not that simple. Garcia-Peltoniemi, emphasized that the film allows viewers to talk about the thoughts and feelings of the perpetrators of crimes against humanity and to understand such violence from their perspective. A Senior Clinician at the Center for Victims of Torture, she spoke about the need to recognize the psychopathic and narcissistic behavior of Anwar and the other leaders as well as the methods used to justify crimes like torture, including moral disengagement, dehumanization of victims, and euphemistic labeling of violent acts. Solheim, an Associate Professor in the Department of Family Social Science, added another layer to the discussion by stressing that violence, and the memory of violence, is a collective process that is difficult to separate from the individual. The fact that the gangsters of the mass killings fifty years ago are the celebrated political leaders of Indonesia today shows how easily violence can become systemically justified and reframed in its aftermath. The institutional refusal to confront the truth is clear in the ongoing lack of accountability for the crimes, and many societal problems in Indonesia today are rooted in the denial of this history.
There was consensus among the panelists and the audience that it is important for the film to gain exposure in Indonesia and for Sumatrans to carry the truth of their own history forward. However, the most crucial take-away from the event was the universality of the narrative. Even thousands of miles away from North Sumatra, we live with the ramifications of the killings, as well as mass violence committed anywhere in the world. As moderator Pauline Boss poignantly stated, we all have the potential to become an Anwar.
The event was organized by graduate student Damir Utrzan and co-sponsored by the Department of Family Social Science, the Center for Victims of Torture, and the American Psychological Association, Division 56 on Trauma Psychology.
-written by Kailey Mrosak