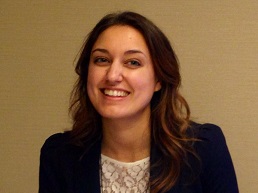 The Human Rights Program and the Center for Holocaust and Genocide Studies are thrilled to announce Amy Cosimini as the recipient of the 2014 Sullivan Ballou Award for her outstanding work in promoting and protecting human rights. Amy is a PhD candidate in the department of Spanish and Portuguese Studies at the University of Minnesota where she researches the relationship between human rights and memory production discourses in Southern Cone literature and popular culture.
During the summer of 2014, Amy participated in a 5-week internship with the Fundación Maria de los Ángeles (Foundation Maria de los Ángeles) in Buenos Aires, Argentina. Founded in 2007 by Susana Trimarco, the Foundation provides necessary assistance to victims of human trafficking. As an intern with the organization, she worked closely with the Foundation's press and communication team preparing press releases, working on community outreach, and designing promotional materials for many of the Foundation's formal events.
Amy earned her B.A in Political Science and Latin American Studies at Macalester College and her M.A. in Hispanic Literature and Culture at the University of Minnesota. She has also published a paper on the use of national dances as political propaganda, and is currently working on a project that investigates how institutionalized transitional justice mechanisms in Argentina, Brazil and Paraguay dialogue with various forms of cultural production to produce cultural memory narratives that (re) frame national memory policies.
The Sullivan Ballou Award is supported by the Sullivan Ballou Fund and is named after Major Sullivan Ballou, an Army soldier killed at the First Battle of Bull Run in the U.S. Civil War. The award honors Major Ballou's memory by recognizing a student who devotes heartfelt energy to promote human rights.