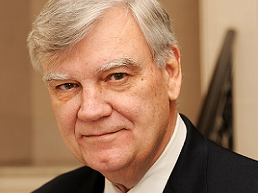 Professor Brian Atwood, the chair for Global policy at the Humphrey School of Public Affairs, University of Minnesota, led the US delegation to the Human Dimension Implementation Meeting (HDIM) of the Organization for Security and Cooperation in Europe (OSCE) held in Warsaw, Poland, from September 22-October 3. Other key members of the delegation included Ambassador Daniel Baer, U.S. Permanent Representative to the OSC; Ira Forman, Special Envoy to Monitor and Combat Anti-Semitism; Thomas Melia, Deputy Assistant Secretary of State for the Bureau of Democracy, Human Rights, and Labor; Ambassador David Killion, Chief of Staff, Commission on Security and Cooperation in Europe (U.S. Helsinki Commission) and Lynne A. Davidson, Senior Advisor to the Bureau of Democracy, Human Rights, and Labor, U.S. Department of State.
The annual meeting serves as a platform for 57 OSCE participating countries, civil society, and international organizations to collaborate to advance human rights and fundamental freedoms. Participating countries and organizations take stock of impending human rights commitments and associated challenges, share good practices and make recommendations for further improvements. This year's meeting was held against the backdrop of the crisis in Ukraine and other world events that necessitated the implementation of commitments in the area of human rights.
Professor Atwood is a former Administrator of the U.S. Agency for International Development (USAID) and Assistant Secretary of State for Legislative Affairs. He also served as the first president of the National Democratic Institute for International Affairs.