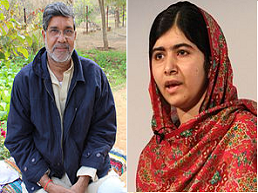 Although a number of initiatives spearheaded by international organizations like the UN and UNESCO to promote gender equality in education have seen some success, the overall state of gender equality and education rights in the world remains deplorable. With women constituting nearly two-thirds of the world's illiterate population, a world with equal access to education for women remains a distant dream. The Nobel Peace Prize awarded to Malala Yousafzai, an impassioned teenager from the Swat Valley in Pakistan and Kailash Satyarthi, a child rights advocate from the Indian state of Madhya Pradesh, therefore, has immense potential to shape the future of gender and education rights in the coming years.
The Human Rights Program presents perspectives from students and faculty on why they view the Nobel Peace Prize as a water-shed moment in the struggle for gender and education rights globally.
Amy Kaminsky, Professor of Gender, Women, and Sexuality Studies University of Minnesota
Malala Yousafzai's own courage is deeply admirable, and she is a wonderful symbol; but it should not be necessary for girls to brave threats and acts of violence to attend school. It is no secret that women's literacy has extraordinary effects on the quality of life for society in general, from public health to the economy to sustainable development. But women have a right to education for its own sake and for their own good, to make their own lives richer. Education brings economic benefits, of course; but literacy, numeracy, and knowledge of the world beyond one's gates enriches individual lives and allows women and girls to dream, imagine, invent, and create.
The work of Malala's co-winner, Kailash Satyarthi, in ending child labor reminds us that girls can be kept from school because of exploitation grounded in poverty and exacerbated by gender norms and flat out sexism. His campaign to save children from slavery is a precondition to their even imagining that education is within their reach.
Kristi Rudelius-Palmer, Co-Director, Human Rights Center, University of Minnesota
Nobel Peace Prize Activists Malala Yousafzai and Kailash Satvarthi have taken great physical and psychological risks for standing up for all children's rights to education, regardless of their economic, social, cultural or political situation. Few of us realize the risks these young people have taken to advocate for the right to education. At the same time, their leadership is creating space for us not only to work for gender equality in access to education, but to lift off the veil of gender-based violence, discrimination, bullying, and sexual harassment occurring in our schools across the globe and recognize the historical trauma endured by many of us. I believe that these leaders are calling on us to stand up and make sure that all children are able to receive not only primary education, but secondary education, in a learning environment that is respectful of human rights and embracing non-violence, equality, and non-discrimination as core principles.
Patrick Finnegan, Assistant Director of Research & Development, Human Rights Center, University of Minnesota
Malala Yousafzai's story of standing up for girls' education in the face of powerful and violent opposition is an inspiring story, but one that also reveals how much work is left to be done to achieve substantive equality in education.
Education is vital to economic mobility and research suggests that the education of women and girls in particular is one of the surest ways to rapidly increase a society's social and economic development. In many places in the world, however, women and girls face barriers to education and thus to economic and social mobility. In Pakistan, for example, girls may be pushed to drop out of school in order to perform household chores or marry at a young age.
Such barriers are by no means confined to the global south; in the United States, for example, far fewer women than men receive math and science degrees, with many women finding gender-based hostility in those fields an obstacle to their progress. Such barriers in part contribute to wage gaps, with women in full time jobs earning 78% of what men typically earn.
In spite of these persistent obstacles, the world has seen tangible progress in the past decade. According to the World Economic Forum, 105 countries have experienced an increase in male-female equality since 2006. As the examples above illustrate, however, there is still a long road to travel.
The year 2014 marks the 25th anniversary of the Convention on the Rights of the Child, the most widely ratified treaty in the world. In continuing to advocate for equality of educational access, it is important to recall that Article 29(1)(d) of the Convention states that education must be carried out in the spirit of equality of the sexes (among other things). Human rights treaties, such as the Convention on the Rights of the Child, can be a key advocacy tool in the struggle for educational equality for women and girls.
Mariah Berner, Freshman studying Psychology and Biology, Society, and Environment
Although Millennium Development Goals and other initiatives have seen success in improving access to education worldwide, gender disparities in education remain largely unaddressed. Women constitute almost two-thirds of the world's illiterate population. This halts their progress creating lack of opportunities and resources to improve their lives. The number of girls dropping out of school continues to remain higher than that of boys. Malala has sought to address these issues by amplifying and advocating the attainment of gender equality in education. She is an inspiration for the young and the old alike.