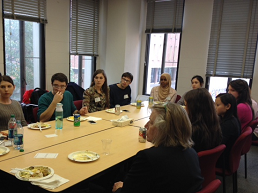 The Human Rights Program is excited to welcome a new Student Advisory Board. As a diverse cohort committed to human rights practice and scholarship, it will coordinate a number of human-rights activities and events on campus. In addition to providing direction to the staff, the members will also assist in disseminating human rights scholarship in the graduate and undergraduate student community thereby enhancing the educational experience for all. Here's a snapshot of the Student Advisory Board member profiles.
Monica Delgado
, a freshman studying Political Science and Global Studies, is interested in exploring issues connecting human rights and public health, immigration, and law.
Halimo Ismail
, a sophomore majoring in Chemistry, is interested in raising awareness about human right issues related to race and religion.
Mariah Berner
, a freshman studying Psychology and Biology, Society, and Environment, is interested in working in the field of education rights.
Liz Hoke
, a biology sophomore, is interested in learning about the process and efficacy of human rights advocacy.
Laura Dahl
, majoring in Neuroscience, is interested in looking at international health and women's health rights.
Elsa Ericson
is a senior majoring in Global Studies with a focus on Human Rights & Justice and Europe with a minor in German and Psychology. Her interests lie in the area of food security and access to health care in communities.
Erica Schultz
is a senior pursuing a B.S. through the Inter-College Program with concentrations in Global Studies, Nonprofit Management, and Youth Studies. Her coursework helped stimulate her interest in the area of immigrant and refugee rights.
Daniela Prigozhina
is a junior majoring in Economics and Political Science with an interest in women's rights.
Patrick Alcorn
is a senior studying Global Studies focusing on human rights and justice in the Middle East. His human rights interests lie primarily within the realm of immigrant and refugee rights in the United States, and equal access to education.
Annie Wood
is a senior majoring in Political Science and Global Studies and minoring in Spanish. The opportunity to serve the Human Rights Program Student Advisory Board aligns with Annie's passion for community engagement and advocacy.
Joseph Fifield
is a senior majoring in Gender, Women's and Sexuality Studies and Global Studies. Joseph will continue his activism work through his membership with the Student Advisory Board.
Kailey Mrosak
is a senior majoring in Global Studies with a concentration in Human Rights and Justice and the Middle East. Her passion lies in fighting for women's rights globally.
With such a vibrant Student Advisory Board, there is a lot to look forward to. Keep an eye out for all the exciting Student Advisory Board events!