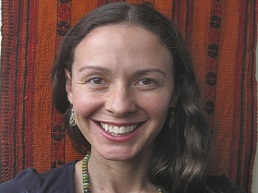 Sarah Hoffman, a current graduate minor student in Human Rights and a doctoral student in Nursing, completed a six-weeks' fellowship at the Grupo de Acciones Públicas de Icesi (GAPI), Human Rights Law Clinic, Universidad Icesi, Cali, Colombia in July 2014. Under the guidance of Diana Quintero, Director of the Human Rights Legal Clinic, Sarah worked on promoting the right to health of internally displaced persons (IDPs) in Colombia and Cali. Specifically, her work focused on supporting the development of a strategy to access information regarding the rights of IDP children, promoting dialogue across disciplines and identifying new avenues for protecting and promoting their health.
During her stint with GAPI, Sarah was actively involved in planning an interdisciplinary conference involving members from Icesi to generate dialogue around human security and develop recommendations for local policy makers to comply with international human rights standards. Her work on the assessment of the situation of the right to health of displaced children in Cali is of immense significance for GAPI in identifying relevant benchmarks for evaluating local policy regarding the right to health of displaced people. At the International Association for the Study of Forced Migration (IASFM) Conference held in Bogota, Colombia on July 16, Sarah presented her views on the structure of the US refugee resettlement policy by using the documented experiences of the Burmese Karen refuge population. Her presentation explored the opportunities and challenges of the US refugee health policy as it contributes to third country resettlement.
During her stay in Cali, Sarah also identified the need for international advocacy in reinforcing the Colombian process of adopting the Optional Protocol to the International Covenant on Economic, Social, and Cultural Rights - a vital component of the international human rights protection system.
"My fellowship experience with Diana Quintero at the Universidad Icesi was outstanding. I feel much more confident in my understanding of the international human rights framework, particularly after having the opportunity to apply norms and standards to the case of IDP children in Cali, Colombia," says Sarah as she sums up her experience in Cali.