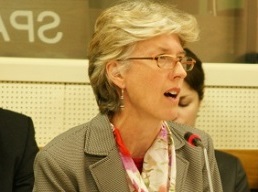 As part of the first workshop in a series initiated by the Holocaust, Genocide, and Mass Violence Studies (HGMV) Interdisciplinary Graduate Group, held on October 2, Barbara Frey, Director of the Human Rights Program, led a talk and discussion on her investigations on the role of human rights advocacy in México.
Her chapter, accepted for final edit to Palgrave McMillan's
The Social Practice of Human Rights
, provided great insight into the "uneven" nature of human rights advocacy.
Explaining that there are four main actors in human rights including including independent human rights NGOs, national human rights institutions, international NGOs, and funders, Frey highlighted the obstructive role of governmental human rights institutions and that of influential donors, primarily from the global north, in the progression of human rights. Her findings further pointed towards the prominent role of "clientelism" and "corporativism" in México, which had the potential to mask, frame, and redirect the nature of human rights advocacy. Frey continued by laying forth how these issues had affected the efforts towards institutional reform in the Mexican criminal justice system. The discussion and comments that followed were indeed fruitful, allowing for opinions and input to not only help Frey improve her chapter but also help improve others' understandings of the current nature of human rights.
The HGMV Interdisciplinary Graduate Group was founded to foster interdisciplinary conversations on the subject areas of Holocaust studies, genocide and memory, peace and conflict studies, human rights, nationalism and ethnic violence, representations of violence and trauma, conflict resolution, transitional justice, historical consciousness and collective memory. Angele Carter from the Department of Gender, Women, and Sexuality Studies will lead the next workshop titled "Re/Imagining PTSD: Toward a Cripistemology of Trauma," on October 16th at 3:00 pm in 710 Social Sciences.