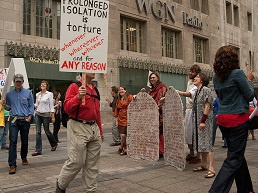 As the United States enters a year of increased scrutiny with regard to the protection of human rights by several U.N. monitoring bodies, Program staff is playing an important role in addressing the government's responsibilities under the Convention against Torture and other Cruel, Inhuman, and Degrading Treatment or Punishment (CAT). Claire Leslie Johnson is serving on the US Human Rights Network's CAT Task Force and is collaborating with regional partners on the drafting of a shadow report to the Committee Against Torture to be submitted on behalf of the Midwest Coalition for Human Rights (MCHR).
The other partners in this initiative are the Human Rights Program at the University of Iowa, the National Immigrant Justice Center, Tamms Year 10, People's Law Office, and the Children & Family Justice Center at Northwestern University.
The shadow report will cover issues ranging from the
Chicago Police torture
cases, arbitrary detention of immigrants and juvenile life without parole (JLWOP) to solitary confinement and racial discrimination. The regional collaboration on advocacy in these areas intensified 3-4 years ago as an outcome of a MCHR strategic meeting in Chicago which focused on ending cruel and inhuman treatment by US officials, and builds on the experience and expertise of Coalition members. The immigrant detention section of the report will highlight the issue of sexual assault in detention and the situation of transgendered individuals. The JLWOP section will raise the need for retroactive sentencing for people who were sentenced as juveniles to life in prison without possibility for parole. The section on solitary confinement will discuss issues of solitary confinement being used in prisons throughout Illinois (and the Midwest).
The Midwest Coalition for Human Rights is a network of over 50 organizations, service providers and university centers working to promote and protect human rights in the Midwest region. This soon to be submitted shadow report is the next step in a long march of bringing local human rights issues before the international community. In December 2013, the MCHR submitted a report to the UN Human Rights Committee detailing similar concerns. In the past, the Midwest Coalition's work has resulted in recommendations by the U.N. Committee Against Torture calling on the U.S. government to investigate and prosecute those responsible for the torture of more than 100 African-Americans in the 1980s and 1990s by the Chicago police. It has also contributed to a National Immigrant Justice Center report on Human Rights Violations in the US Immigration Detention System that was submitted to the United Nations Universal Periodic Review in 2010.