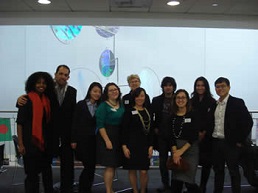 Here's some exciting news for human rights studies enthusiasts. Course offerings in the area of human rights continues to grow at the University. Professor Frey's International Human Rights Advocacy course (GLOS 5403/LAW 6058), is moving to the Spring semester. One of the three core courses for the graduate minor (but open to all graduate students), it examines the theoretical basis of the human rights movement, the nature of organizations in the human rights field, their strategies, tactics and programs. In addition, a new three-credit graduate level course on human rights research methods will be offered by Shannon Golden, PhD. This course will be offered by the Human Rights Program with a Global Studies course listing.
A new core course, "Topics in Sociology: Cross-Disciplinary Perspectives on Human Rights," (SOC 8090), commenced this Fall. The course, offered by Professor Elizabeth Boyle of the Sociology Department, is open to graduate students from across the University of Minnesota. While approaching human rights issues from a variety of theoretical and applied perspectives, the class engages deeply with social science approaches to human rights. This new class is offered in addition to the core "International Human Rights Law" course (LAW 6886), taught jointly by Regents Professor David Weissbrodt, Dorsey & Whitney Professor Fionnuala Ni Aolain, and Human Rights Program Director Barbara Frey.
In addition to these courses, there are more than 35 courses from several University colleges and departments listed on the Human Rights Program website that deal with some aspect of human rights and which are pre-approved as electives for those pursuing the graduate minor in human rights.