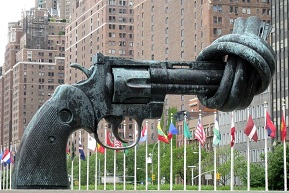 How can human rights advocates work to prevent gun violence? This was the motivating question for a strategy session hosted by the Human Rights Program recently, with the support of the Midwest Coalition for Human Rights, the Advocates for Human Rights, and the U.S. Human Rights Network.
A hot-button issue in today's society, gun violence takes on many forms, such as gang violence, domestic violence, and police brutality, and affects certain groups in particular, such as children, minority groups, and victims of domestic violence. The issue, seemingly a constant in the daily news, caught the nation's eye in particular this summer, when Michael Brown was tragically shot and killed by a police officer in Ferguson, Missouri. Amnesty International's presence as an international monitor during the days of protests following Brown's death demonstrated new interest in by the human rights community in gun violence in the U.S.
The HRP's event focused on bringing human rights and gun safety advocates operating from a variety of perspectives together to discuss successful domestic and international strategies to reduce gun violence.
The discussion opened with Professor Barbara Frey, director of the Human Rights Program, who had carried out a seminal United Nations study on the linkage between gun violence and human rights. Frey pointed out that states do in fact have a responsibility to protect the security of persons who live under their control, including taking common sense steps to prevent foreseeable human rights violations committed with firearms. Frey brought attention to the
Principles
adopted by the U.N. Sub-Commission on human rights which explain more specifically the kind of steps governments need to take to reduce violations committed with firearms.
The seminar considered two locally affected communities, North Minneapolis and Southside Chicago. With regards to the situation in his North Minneapolis community, former City Council Member Don Samuels explained the prevalence of gun violence and how that violence had consistently been ignored by policy makers. He connected the gun violence situation in his community to ongoing and systemic racial inequalities and segregation across the Twin Cities, and shared some of the creative strategies he has engaged in to highlight the tragedy in his community. For example, Samuels is well known for the
vigils
he carried out at the sites of every gun death in his community. His protests included day-long fasts, and he carried them out throughout his career as a City Council Member.
Ms. Veronica Morris-Moore, leader of an organization in the Wood Long community in Chicago, Fearless Leading by the Youth (FLY), described how gun violence has become normalized in her community. Ironically, the South Side of Chicago, a community severely affected by gun violence, does not have a trauma center. FLY is engaged in a campaign to open a center at the University of Chicago to shorten police and ambulance response times, thus reducing the number of fatalities from local area shootings. Presently, ambulances carry gun victims to Northwestern University's trauma center in downtown, over ten miles from the Southside community. To inhabitants of the area, the lack of a trauma center seems like deliberate message that the government does not want to provide help to those people who cannot pay for services, despite the obvious need.
Heather Martens, Director of Protect Minnesota, discussed local political strategies on reducing gun violence, including the legislature's recent adoption of stricter standards on gun possession by persons with records of domestic violence. Amnesty International's Ernest Coverson, who was in Ferguson, MO, reported on developments in the Michael Brown case.
These local perspectives were coupled with presentations on international strategies for reducing gun violence. Mr. Arthur Kamm, an independent gun safety advocate, discussed how to best to align gun control with other human rights issues. Noting the disproportionate impacts of gun violence on communities of color, Kamm, suggested that increased political representation in those communities will strengthen the political will in the U.S. for common sense gun reforms.
Ms. Rebecca Peters, Senior Associate for Surviving Gun Violence and consultant for Amnesty International USA, talked about the role of community-based organizations in international society. Peters discussed the work of IANSA (International Action Network on Small Arms), a conglomerate of hundreds of organizations which has worked effectively to develop norms in the U.N. system including the
Programme of Action
to prevent illicit transfers and the
Arms Trade Treaty
, to prevent governments from transferring weapons that will be used to violate human rights. Regarding non-state armed actors, IANSA advocates for the development of additional screening measures and a more thoughtful process for acquiring and purchasing firearms. They have found, through the use of numerous surveys, that lengthening the process for obtaining a firearm is often a deterrent to its use in carrying out violence.
Professor Jennifer Green from the University of Minnesota Law School, discussed the outcomes of her clinic's work with UN human rights bodies on gun violence in the U.S. Advocacy by the law students has resulted in increased visibility of states' policies on gun availability and use. The Human Rights Committee, for instance, issued
findings and recommendations
on the U.S.'s most recent report, emphasizing the need to curb gun violence, including reviewing "Stand Your Ground laws to remove far-reaching immunity and ensure strict adherence to the principles of necessity and proportionality when using deadly force in self-defense."
The conference was a valuable initial step in building partnerships in using the human rights framework to address gun violence.
-Written by Isabella Nascimento