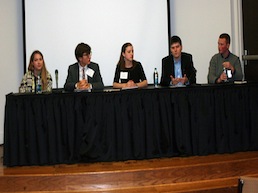 On April 16, 17 & 19, the U of M held a series of events to commemorate the 20th anniversary of the genocide in Rwanda that took the lives of an estimated 500,000-1,000,000 Tutsis and moderate Hutus. The commemoration began with the public conference,
Genocide and its Aftermath: Lessons from Rwanda
, featuring an opening address by Taylor Krauss, founder of Voices of Rwanda, an organization dedicated to filming testimonies of Rwandans to inspire a global sense of responsibility to prevent atrocities.
Krauss theorized that the final stage of genocide is to eliminate its trace, erase its history, so that it is made complete. As such, Krauss has been working since 2006 to film the testimonies of survivors in order to remind us what aftermath really means. He shared excerpts of three of these testimonies, demonstrating survivors' essential need to remember. Krauss concluded his address stressing that listening is not a passive act, it demands a response, reminding the audience that many nations still harbor perpetrators of this horrific crime. See the opening address
here
.
The first panel, which followed Krauss' address, was titled
Rwanda 1994 and its Representations
. It examined the failure of nation-states to intervene in Rwanda, the use of commemoration to promote peaceful coexistence, the response of the international human rights community to the genocide, and the narrative on 'lessons learned' surrounding genocide today. The panel was chaired by University of Minnesota Humphrey School Dean, Eric Schwartz, and panelists included University of Minnesota Law School Dean, David Wippman, Director of Research at the Rwandan National Commission for the Fight against Genocide, Jean-Damscene Gasanabo, Director of the Center for Victims of Torture, Curt Goering, and Badzin Fellow, Wahutu Siguru. See the first panel
here
.
The conferences' second panel,
Immediate Aftermaths: Justice, Redress and Memory
, explored the International Criminal Tribunal on Rwanda, Gacaca courts, memory, identity, and memorials. The panel was chaired by the University of Minnesota Center for Holocaust and Genocide Studies Director, Alejandro Baer. Panelists included Director of the University of North Dakota (UND) Center for Human Rights & Genocide Studies and Former Legal Officer at the International Criminal Tribunal for Rwand, Gregory Gordon, McKnight Professor of Sociology, Chris Uggen, University of Minnesota Sociology Ph.D. candidate and future Ohio State Assistant Professor, Hollie Nyseth Brehm, Director of the Center for Holocaust and Genocide Education at St. Cloud State University, Dan Wildeson, and Brandeis University Sociology Ph.D. candidate, Nicole Fox. See the second panel
here
.
The final panel,
Long-term Implications: Impact, Prevention and Intervention
, dealt with the long-term implications of interventions, or non-interventions, on societies that have experienced genocides. The panel was chaired by the University of Minnesota Human Rights Program Director, Barbara Frey. Panelists included Professor of Sociology of Latin America and Director of the Latin American Centre at Oxford University, Leigh Payne, University of California Sociology Ph.D. candidate, Marie Berry, Professor of Political Science at the University of Arkansas and a leading scholar in genocide education, Samuel Totten, and Professor of French and Francophone Studies at Macalester College and co-founder of the Interdisciplinary Genocide Studies Center in Kigali, Rwanda, Jean-Pierre Karegeye. See the third panel
here
.
Finally, Adama Dieng, UN Special Adviser on the Prevention of Genocide, delivered the evening Keynote Address. Dieng addressed the lessons learned of past failures to intervene in the crime of genocide, acknowledging that the United Nations and its member states have not been as effective as they could have been and discusses how current and future atrocities can and should be treated. He discussed the importance of the work of Special Adviser's Office in predicting and preventing mass atrocity, by raising the alarm early to situations that could lead to genocide and by coordinating with all stake holders within and outside of the United Nations to prevent genocide quickly and effectively. Mr. Dieng also called attention to the fact that the public has a role in the process. He noted a special emphasis on young people, with programs planned to allow their voices to be more widely heard in the international political and humanitarian arena. See the keynote address
here
.
The public conference was followed the next day by a student conference at Coffman Union. Twelve students participated from across the country and world. Students presented papers on three panels, whose themes were Sexual Violence in Mass Atrocity, Western Involvement and Representation of Genocide and Mass Atrocity, and Genocide around the World. Specific topics included Valparaiso student Kayla Nomina's presentation of political cartoons and how they represented genocide and mass atrocity, University of Minnesota student Selena Ranic's presentation on sexual violence and gender discrimination in mass atrocity and Swarthmore University student Daniel Hirschel-Burns' presentation on civilian self-protection.
The final event was an Educator Workshop, held on April 19th. The workshop was conducted by leading genocide scholar Samuel Totten. More than 40 local teachers attended, from elementary, high school and college levels. Totten discussed the meaning of genocide, its legal framework, his past work in Rwanda and his current work in the Nuba Mountains in Sudan. Teachers were encouraged to explore their knowledge of genocide and mass atrocity and discuss ways to effectively bring this knowledge to the classroom.
These three events, hosted by the Human Rights Program, the Center for Holocaust and Genocide Studies, and the Institute for Global Studies brought together research, practice, academia and activism. Both speakers and attendees were able to participate in all events through questions, public receptions and one-to-one interactions. This commemoration drew attention to the genocide in Rwanda in 1994 and how the genocide continues to affect daily life in Rwanda today. It also drew attention to other current atrocities happening around the world. With a focus on "Lessons from Rwanda", we hope that the ideas discussed at this series of events will bring about positive change in how atrocities are viewed, represented and responded to in the future.
To view videos and photos from the events, click
here
.
Written by Kaela McConnon