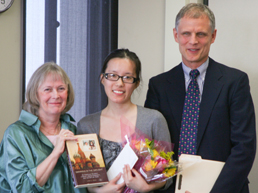 4TH ANNUAL HUMAN RIGHTS
STUDENT AWARDS CEREMONY
Friday, May 9, 2014 at 12:00 PM
University of Minnesota - Twin Cities
1210 Heller Hall (West Bank)
271 19th Avenue South, Minneapolis, MN 55455
Join us as we recognize and celebrate three amazing University of Minnesota undergraduate students and their accomplishments in promoting and protecting human rights, Melanie Paurus (receiving the 4th Annual Inna Meiman Human Rights Award) and Joe Fifield and Anna Meteyer (receiving Sullivan Ballou Awards).
Melanie, Joe and Anna embody the spirit with which these awards were created - recognizing a significant personal contribution to protecting human rights and the heartfelt energy that compels an advocate to take meaningful action.
We are thrilled to welcome back Kathryn Sikkink (Faculty Emeritus at the U of M, the Ryan Family Professor of Human Rights Policy at Harvard Kennedy School, and the Carol K. Pforzheimer Professor at the Radcliffe Institute for Advanced Study) to provide the opening remarks.
Lisa Paul, Inna Meiman Award founder and U of M alum, will present the award to Melanie and Bruce & Elissa Peterson, Ballou Award co-founders, will present awards to Joe and Anna.
We will also be recognizing the wonderful contributions of the 2013-14 HRP Student Advisory Board, taking specific note of our recently graduated and graduating seniors, Kirstin Benish, Jenny Cafarella, Lauren Yon-Soo Kim, Natalie Miller, Aoife O'Connor, Cady Phillips, Lars Røed, Kaile Sepnafski, and Kim Wilson.
Program to include lunch and time to celebrate!
Directions to and parking for Heller Hall