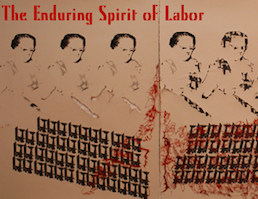 A series of events surrounding an art exhibition on labor and justice Presented by The Human Rights Program, The Institute for Global Studies and The Department of Art
View the flyer.
Art Exhibition: April 22nd - May 3rd
REGIS CENTER FOR ART QUARTER GALLERY
Public Forum on the Intersection of Art and Activism: April 23rd, 6 - 7 PM
REGIS CENTER FOR ART INFLUX
Public Reception: April 23rd, 7 - 9 PM
REGIS CENTER FOR ART ATRIUM
Historical Art Exhibition: April 1 - July 18
T.R. ANDERSON GALLERY, WILSON LIBRARY, 4TH FLOOR
ART EXHIBITION
APRIL 22ND - MAY 3RD
Regis Center for Art (East) Quarter Gallery
The exhibition speaks to injustices rampant in labor industries and services, and celebrates the struggle against systemic forces of oppression. The artists included often draw upon their own personal experiences, work with marginalized communities, and/or incorporate their academic research in their artistic practice and advocacy.
PUBLIC FORUM: A Discussion on the Intersection of Art and Activism
APRIL 23RD 6:00 - 7:00PM
Regis Center for Art (East) INFLUX
Artists, activists, students, and scholars will gather in discussion on the intersection of art and activism. The conversation will touch upon the politics and ethics of representation in artistic activism, as well as the potential of art to be a driving vessel for radical social change. Please join the conversation and share your thoughts!
PUBLIC RECEPTION
APRIL 23RD 7:00 - 9:00PM
Regis Center for Art (East) Atrium
A public reception will follow the public forum, where all are welcome to celebrate the unveiling of the exhibition alongside artists in the show. Hor d'oeuvres and refreshments will be served.
HISTORICAL ART EXHIBITION : Labor in the Eyes of Artists
APRIL 1ST - JULY 18TH
T.R. Anderson Gallery, located on the 4th floor of the Wilson Library
This historical art exhibition examines the role of art across different eras of labor advocacy. From radical anarchist and socialist zines of the 1920's to works generated under the Federal Art Project (FAP), from World War II posters to prints from Occupy Wall Street, this exhibition illustrates how art has been used as a tool for labor mobilization and organization throughout America's history.
View the flyer.
Photo is credited to artist Maddy Grimmer. It is an image of her work, titled
The Industry