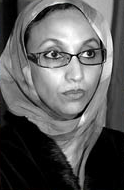 The Global Studies Department at the University of Minnesota and the Iberian Studies Initiative for collaborative research present a conference that will illuminate and draw together the histories of Iberian colonialisms with the present realities of African immigration and cultural production. International scholars, poets and speakers will explore why contemporary poets are rallying to the Saharan cause.

Friday, April 5, 2014
Nolte Center 125
9:00 a.m. - 4:00 p.m.KEYNOTE SPEAKER
Aminatou Haidar
Keynote Speaker Aminatou Haidar is a Sahrawi human rights activist, advocate for the independence of Western Sahara, and president of the Collective of Sahrawi Human Rights Defenders (CODESA). Known as "Sahrawi Gandhi" for her nonviolent protests, she was imprisoned from 1987 to 1991 and from 2005 to 2006 on charges related to her independence advocacy. In 2009, she attracted international attention when she staged a hunger strike after being denied re-entry into Moroccan-occupied Western Sahara. Haidar has won several international human rights awards for her work, including the 2008 Robert F. Kennedy Human Rights Award and the 2009 Civil Courage Prize. In 2012 she was nominated to the Nobel Peace Prize.
A related film screening and an educator workshop are also to take place April 4th and 5th. For more information, please view the complete event schedule here.