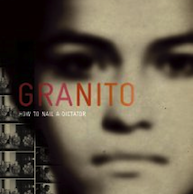 On Thursday, February 6, the University welcomed director and filmmaker Pamela Yates and producer Paco Onís at St. Anthony Main Theater in Minneapolis to screen their powerful documentary Granito: How to Nail a Dictator. The narrative centers on the investigation of the 1982 genocide of Maya people by the military in Guatemala and on the determined fight for justice. The event was free to the public and included both a Q & A session with Yates and Onís as well as a viewing of their short film, The Verdict, on the 2012 trial of General Efraín Ríos Montt for genocide and crimes against humanity.
In her introduction to the audience, Yates explained that she had traveled to Guatemala in 1982 to film her first documentary, When the Mountains Tremble, on the guerilla war between the Maya people and the Guatemalan military, and that she never would have believed at the time that her film outtakes would be used twenty-five years later as evidence of human rights abuses. Granito: How to Nail a Dictator followed Yates, international attorney Almudena Bernabeu, and others as they pored over the captivating footage and slowly built a case against Ríos Montt and the military regime. Yates expressed that, for her, Granito was both a documentary of human rights abuses and a love letter to human rights workers.
During the Q & A session, she spoke of the importance of documentary filmmaking as a broader way to engage people in human rights work. There has been considerable controversy regarding the interaction between filmmaking and human rights. Both Yates and Onís disagree with the belief that artists should avoid politics, arguing that well-told stories have the power to bring about social change. This is, in fact, the mission of Skylight, the media production company they founded together over twenty-five years ago. Yates considers herself a social issue filmmaker, and often asks, "What is the role of art in human rights?" At least when it comes to documentation, Yates believes there is immense power in creating a story that allows people to see their own reflection of humanity and inspire social change.
In January 2012, Ríos Montt was indicted for genocide of the Maya people. While the ruling was overturned by the constitutional court on procedural grounds and a retrial is unlikely, Yates maintained that the trial still marked a transformative moment of departure for the Guatemalan people as an unprecedented statement of justice. Indeed, the motivation behind Granito: How to Nail a Dictator, and for all of Yates' and Onís' work, is "memory, truth, and justice" to ensure that human rights violations such as the Maya genocide serve as a reminder that we are all granitos de arena, or tiny grains of sand, in the collective endeavor for change.
Yates and Onís have launched a companion digital project to preserve the collective memory of the genocide. Granito: Every Memory Matters is accessible at
http://granitomem.com/
.
Written by Student Advisory Board member Kailey Mrosak