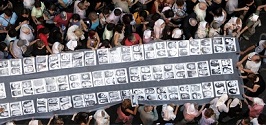 Program Director Barbara Frey will give the inaugural presentation of this spring's speaker series, "Reframing Mass Violence: Human Rights and Social Memory in Latin America and Southern Europe" Thursday, January 23, 2014 from 3:00 - 4:30 in 235 Nolte Hall (East Bank - TC Campus). The "Reframing Mass Violence" series will explore the particular developments and transnational entanglements of social memories in societies revisiting their legacies of dictatorship, state terror, and grave human rights violations in Latin America and Southern Europe. The series will allow distinguished experts from the countries of study to discuss their work and engage in dialogue with local scholars, students and the public on contemporary processes of re-interpretation and re-framing of the atrocities themselves and the transitional justice models that were adopted in their aftermaths. The series runs conjointly with a 1-credit course being offered at the University. All events, however, are free and open to the broader public.
In the series kickoff, Barbara Frey presents "Transitional Justice: Seeking Truth and Accountability for Systematic Human Rights Violations." Frey will examine countries emerging from repression, armed conflict, or mass atrocities to see how they have chosen to address the past as part of their transition into new forms of governance and citizenship. She will also discuss methods and mechanisms that have been developed by national or international actors, including public memorials, truth commissions, and national or international criminal prosecutions to assist societies to transition away from repressive pasts.
Two weeks later, on Thursday, February 6, (3:00 - 5:30 pm, St. Anthony Main Theater, 115 SE Main Street, Minneapolis) the University welcomes director and filmmaker Pamela Yates and producer Paco Onís to screen their documentary
Granito: How to Nail a Dictator
.
Granito
tells the stories of five main characters whose destinies are joined together by Guatemala's turbulent past. The film focuses on the early 1980's when General Efraín Ríos Montt, in order to obtain and maintain power, implemented an intentional military attack, known as the "scorched earth" campaign, targeting the indigenous population of Guatemala. This campaign resulted in nearly 200,000 deaths, including 45,000 forced disappearances, and numerous displaced communities. Released in early 2011,
Granito
has received recognition internationally, with one critic stating that the film does not just document history, but that it "makes history." Attendees to this event will have an opportunity to participate in a Q&A session with the filmmaker and producer following the screening as well as to view a 13-minute video of the Ríos Montt trial, titled The Verdict.
We hope to see you at these powerhouse events set to launch the series and we are certain that the entire series will be one you want to pay attention to. Look for future news about these upcoming segments:
• February 20: Alejandro Baer (U of M), "The Sociology of Collective Memory"
• March 6: Mariana Achugar (Carnegie Mellon), "Uruguayan Memories of Dictatorship"
• March 27: Glenda Mezarobba, UNDP's representative for the Brazilian Truth Commission Brasil
• April 10: Panel Discussion, "The Evolving Memory of Argentina's 'Disappeared'", with Emilio Crenzel (University of Buenos Aires) and Leigh Payne (Oxford / U of M)
• April 24: Ana Forcinito (U of M), "Culture/Art, Memory and Human Rights"
• Francisco Ferrandiz (CSIC, Madrid), "Spain's Memory Movement"
All events, with the exception of February 6 and April 10, will be held at Nolte 235 on Thursdays from 3:00 - 4:30 p.m.
Organized by the Institute for Advanced Studies, the Human Rights Program and the Center for Holocaust and Genocide Studies at the University of Minnesota