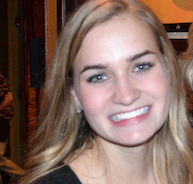 Kirstin Benish, a senior majoring in Global Studies with a focus on human rights/social justice and minoring in African American and African Studies, has applied her education through trips to the African countries of Kenya and South Africa. Each trip provided a vastly different experience and reaffirmed Kirstin's passion for human rights.
.
During her freshman year, Kirstin visited Cape Town, South Africa, as part of a three week global seminar through the University of Minnesota. Here, Kirstin learned about the effects of apartheid and the treatment of black and "colored" South Africa. Although she felt frustrated that her education had not addressed the issue until her freshman year of college, this trip sparked Kirstin's interest in learning more about human rights.
In Kenya, Kirstin lived in Nairobi for the first semester and Dol Dol for the second semester of her sophomore year. While working as an intern for the One More Day Children's Home (OMDC), Kirstin aided twenty young girls that were affected by early marriage and female genital cutting (FGM). "OMDC collaborates with lawyers, social workers, and policemen to ensure children are safe and cared for in Kenya." These young girls with ages ranging from 8 to 16 profoundly impacted her perspective on life. "These girls have been through more in 8 to 16 short years than I will ever encounter in my life." Here in the Maasai communities of Kenya, Kirstin realized the importance of child protection laws; seeing the dedication of her co-workers and the resiliency of the young girls also inspired Kirstin to pursue human rights issues further. Kirstin's biggest challenge emerged with the recognition of her white-privilege. "Being the only white person in Dol Dol at that time, I was given opportunities and treated a certain way because of my skin color." Often times, people were more concerned about Kirstin's interests, rather than the health of the twenty girls at the center.
Kirstin's international experiences fueled her desire to study human rights and shaped her perspective of the world. As graduation approaches in May, Kirstin recognizes that human rights and social justice will play a huge role in her life following college.