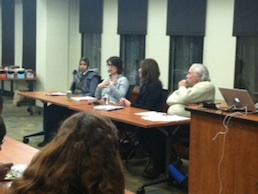 Human Rights Week has proved thus far to be a great success once again for the Student Advisory Board, who worked diligently throughout the semester to organize the several human rights events that have taken place this week as well as another event happening next week. Focusing on educating their peers and colleagues not only on several human rights issues of severe concern, but also about the birth and evolution of the idea and institutionalization of human rights as a paradigm designed to address them, these students wish to deeper engage the U of M community with human rights and draw together passionate individuals wishing to advocate and serve others. Events this week included two panel talks, one on human rights issues surrounding the situation in North Korea, and another on the current condition of refugees across the world today.
On Tuesday, December 3rd, Human Rights Week began with a screening of North Korea: Beyond the DMZ and a subsequent panel discussion featuring Jennifer Kwon Dobbs, Caitlin Kee, and U of M Professor Kirk Allison. The event, which was hosted by Student Advisory Board member Lauren (Yon-Soo) Kim, covered a variety of topics pertaining to the North Korean people, culture, and political situation. One primary topic covered by both the film and the panelists was the tendency for the United States to dehumanize the North Korean population and conflate it with its regime, allowing for the imposition of harmful sanctions regimes that reduce the quality of life for ordinary North Koreans. Alternatively, the North Korean people are often seen as a helpless child, victimized by their government and in need of rescue from foreign agents, which gives justification for the funding of political bodies whose goal is to bring about regime collapse. Although there undoubtedly exists need for political and economic reform as well as development within the DPRK, the film and panelists stressed the importance of remembering the humanity of its citizens, and understanding the complex situation on the Korean peninsula through a historical and two-sided perspective rather than an outdated and biased Cold War perspective.
On December 5th, the Human Rights Program Student Advisory Board hosted another panel discussion that included Jim McKenzie from the Center for Victims of Torture, Ellen Kennedy from World Without Genocide, Elizabeth Rose from the International Institute of Minnesota, and Bosteya Jama from the Confederation of Somali Communities in Minnesota. The discussion centered on the grave human rights conditions facing refugees and asylum seekers today, their struggle for citizenship, future challenges for the refugee community, and possible solutions to combat the problem of ignorance.
The panel addressed the severe human rights conditions faced by the more than 43 million refugees in the world today. A particular issue of concern was lack of citizenship, without which an individual has no rights, as our world continues to be centered on the nation-state as the main provider of rights. These leaves refugees increasingly vulnerable, and often this lack of citizenship and protection means that the services they deserve and need are not available to them. Another area of focus during the conference was the dire state of refugee camps. Although in theory these camps are intended to be places of safe haven, they often prove to be instead of high insecurity, unrest, disease, and violence. The world is at a record high in numbers of refugees, and these camps simply were not designed to hold the capacity of people currently in need of shelter. Unable to gather the necessary amount of resources to meet the need, and unable to expand, these camps are ridden with deplorable living conditions, and packed with a high concentration of people who are fleeing truly frightening situations, with high levels of trauma.
The panelists last night are among those in Minnesota working to address these grave issues and to serve refugees. Through providing mental health services and other forms of therapy to torture survivors, mentorship to families struggling to adjust to a new culture, job training, language classes, and citizenship services, these individuals work in solidarity with those seeking a strong start to a new life. However, the panelists stressed that there are still many challenges to be overcome once refugees and asylum seekers arrive in the United States. These incredibly strong survivors must face discrimination, inadequate financial assistance, and the difficulty of navigating a new city without knowing English, among many other obstacles. The panelists called the audience to carry on their work following the event, through reaching out to Minneapolis' refugee and immigrant communities and educating their peers in order to dissolve the fear and misunderstandings that continue to isolate refugees from the greater Minneapolis community.