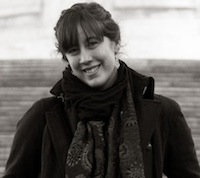 Aoife O'Connor, a senior on the Human Rights Program Student Advisory Board, is involved in a variety of human rights efforts outside of her classes and her work on the board. In addition to her contributions to the HRP, Aoife also has dedicated herself to her work at The Aurora Center on the U of M campus, where she is an advocate, educator, and a Certified Sexual Assault Crisis Councilor. The Aurora Center provides a safe and confidential space for students, faculty, staff, alumni, and family members or friends affiliated with the University of Minnesota, TC or Augsburg College who are victims/survivors/concerned people of sexual assault, relationship violence, or stalking.
In her role as advocate, educator, and Sexual Assault Crisis Councilor, Aoife helps to run The Aurora Center's 24-hour help line, where victims of sexual assault, stalking, and relationship violence (as well as friends, other advocates, or any one interested in gathering information) can call to receive support, resources, assistance, and counseling. Aoife also acts as an educator at The Aurora Center, giving presentations on consent, healthy relationships and sexuality, sexual assault and alcohol, and active bystander intervention. Most recently, Aoife has undertaken her own project as part of her work at the center, where she will develop an internship position focused on increasing the accessibility of the center to the LGBT community. The intern will serve as a peer representative of The Aurora Center for LGBT students, bridging Aurora with the Queer Student Cultural Center, and enhancing outreach efforts and inclusiveness at the center.
Read more
about The Aurora Center...