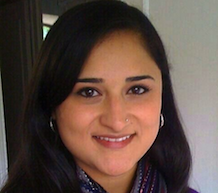 On Friday, November 1st, Archana Pandya, Researcher and Hubert Fellow, presented her research findings from Mumbai, where she investigated the essential role played by local human rights organizations (LHROs) in the developing world. LHROs are a key component of international human rights infrastructure; however, very few studies have focused on these organizations, let alone their legitimacy and sustainability. Drawing on data collected in Mumbai between 2010 and 2012, Ms. Pandya discussed her research of the LHRO community there, analyzing how LHROs are perceived by the general population, how they sustain themselves, and what relationships they have with other local actors.
Through her research, Ms. Pandya found that LHROs are not very well understood or received by local populations. The topic of human rights itself largely seems ambiguous and difficult to understand, and many organizations working to provide charity and services focused on development and poverty alleviation do not identify as human rights organizations and do not employ this language. Ms. Pandya theorizes several explanations, including the reality that Indians have not been socialized to think of each other as equals, poor education, poorly functioning rights-enforcing bodies, and the precedence of basic survival over human rights in communities facing extreme poverty. In talking with residents in Mumbai, Ms. Pandya discovered that many individuals had never met someone who worked at a human rights organization, had only "sometimes" heard talk of human rights, were unable to name a human rights organization, had a mixed or contradicting understanding of what it means to be a human rights activist, and had very little trust of human rights organizations.
Ms. Pandya also found that the LHROs she encountered in Mumbai all were somewhat dependent on foreign support, although funding also often came from local actors such as individuals, the corporate sector, and the government. Many LHROs expressed that they actually felt they had more autonomy when funding stemmed from foreign actors than from local, as local funders were able to more closely monitor the activities of the organization and the particular allocation of funds. Finally, Ms. Pandya gathered that individuals remain the largest source of untapped funding, as individuals (who remain wary of human rights organizations) prefer to donate to religious organization,.
Listening to Ms. Pandya's findings, it seemed clear that the global effort to improve human rights practices should be channeled toward working in North/South partnerships that include local organizations in impoverished and developing communities who are already striving for peace and equitable living standards, fortifying their capacity to carry out their own human rights work in their communities, without a necessarily Northern agenda. Thus, studies such as Ms. Pandya's prove essential scholarship in the effective and just spread of the human rights movement, as her insights on local human rights organizations in Mumbai may guide such partnerships between North and South human rights organizations.
Written by Anna Meteyer, Student Assistant