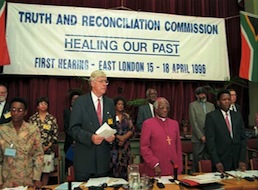 On Monday November 4th, the U of M was visited by South African scholar Janis Grobbelaar, who spoke about her experiences working on the Truth and Reconciliation Commission following the fall of the Apartheid government. The TRC's mission was to establish facts and gather information but not to punish or judge the offenders, which created a complex ethical scenario. Ultimately, those who confessed to complicity or involvement in some of Apartheid's worst crimes were pardoned, due to the possibility of amnesty for those who were willing to confess. Notably, no apologies were required in order for someone to be eligible for amnesty, leaving many with the impression that justice was not served. Professor Grobbelaar discussed the important social trends that characterize the modern South African state, many of which stem back to this legacy of segregation and the difficult, but successful transition into democracy.
Firstly, she noted that South Africa today is undoubtedly improving in several ways, among them the growing economy, improved sanitation, access to water, lowered infant mortality rates, and an overall increase in the quality of life for most of the population. She discussed the emergence of a growing middle class among the historically oppressed black majority population, as well as a "patriotic bourgeoisie," an upper class of black entrepreneurs who were the beneficiaries of government-led Affirmative Action programs. These programs have resulted in some success, such as an increase in the percentage of black business owners (although the majority of businesses are still owned and run by the roughly 10% white minority population).
These modest, though noteworthy successes are overshadowed by a long list of problems faced by South Africans today. According to Grobbelaar, the fall of Apartheid has not relieved South Africa from its serious social and political fragmentation, of which race remains a major driving force; indeed the establishment of a "Rainbow Nation" has proved easier said than done. Within government, the African National Congress (ANC), which has been dominant ever since the transition to democracy, is known to be rife with problems of corruption as well as infighting between its many disparate elements. Understandably to us Americans, political stagnation is presently occurring as a result of an enduring standoff between the political right and left. State institutions, says Grobbelaar, are weak; the state is generally in decline.
However, most striking is the fact that the legal inequality of Apartheid has been succeeded by a deeply entrenched socioeconomic inequality that--defying the predictions of many idealists--has actually increased since the implementation of democracy. Grobbelaar emphasizes that this inequality is institutional, and although there has been some success in bringing more black South Africans into higher education, the skill level between races remains disparate due to inequality of opportunity. With South Africa swiftly emerging as one of the world's most dynamic and fastest-growing economies (making up the tail end of the BRICS nations), managing this economic unevenness will be a primary obstacle for South Africa to work through politically.
Prof. Grobbelaar proceeded to discuss her involvement in the Truth and Reconciliation Commission in greater detail, describing its strengths and weaknesses. Among its strengths, she listed that it allowed people to grasp the reality of what had happened; white people were made aware of the crimes committed by their government, and coloured and black people were granted the validation of having their experiences officially recognized. Also, the ruling African National Council was NOT in control of the TRC, which strengthened the TRC's neutrality and its relative independence. For this reason, the TRC was able to scrutinize the violent acts of the ANC as well as the Apartheid government.
Among the TRC's weaknesses, Grobbelaar stated that although truth commissioning was "therapeutic," there was no "reconciliation of power" between dominant and dominated ethnic groups. Also, little new truth about South Africa was made available. Furthermore, the amnesty program was somewhat ineffectual due to its policy of judgment according to proportionality, and its lack of requirement of an apology from those seeking amnesty.
During the question and answer session, Prof. Grobbelaar discussed the availability of information to the South African white population during Apartheid. South Africa, she emphasized, was a strange combination of authoritarian and liberal democratic elements, which included among other things a relatively free press. This meant that information about the crimes of the South African government was available to the people, but many shut out these voices as a way of distancing themselves from the guilt of living under a criminal regime. She shared an anecdote about a man who had spoken to her on an airplane, expressing his indignation at how the people had been "lied to"; however, Grobbelaar dismisses the validity of this claim to ignorance, postulating that it is more of a coping mechanism than a statement of fact. South Africa's isolation from the outside world in the years leading up to the end of Apartheid strengthened this feeling of blindness due to the absence of opposing voices within the South African population, but increasingly as South Africans traveled to Europe or other countries for education or work, foreign views of the Apartheid regime began to proliferate. The last legs of the regime, she said, were kicked out when it became economically disadvantageous to conduct business in South Africa due to the international sanctions placed against it.
Overall, Grobbelaar presented a picture of South Africa that was optimistic, although not unrealistically so, and assessed the many challenges and struggles that remain in South Africa's future with an emphasis on the proactive steps that should be taken in order to find a solution. It was an eye-opening and interesting description of a country with a very complex and unique recent political history.
Written by Erik Randall