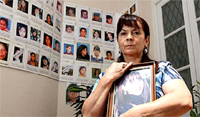 Few human rights activists the world over rival the awe-inspiring strength and perseverance embodied by Susana Trimarco. An unwilling heroine, she was catapulted into her role as the figurehead for the fight against human trafficking in Argentina when her daughter Marita was kidnapped on April 3, 2000 in a tragically common incidence of disappearance. As she began to uncover the depth of corruption and collusion between Argentinian authorities and the trafficking ring, what had started as a personal quest to find her daughter soon became a crusade to fight the trafficking of women throughout all of Argentina.
Her accomplishments in this fight have been tremendous, culminating in 2007 with the establishment of the Fundación Maria de los Ángeles, an organization that has since paved the way in providing assistance to trafficking victims, supplying rehabilitative family counseling, and processing complaints of this heinous activity, a paradigm that has now been replicated internationally.
In order to place a spotlight on issues of violence against women, the University of Minnesota hosted the international symposium "Erasures: Gender, Violence, and Human Rights" from October 24 to 25, which addressed the epistemic effects of the absence, or "erasure," of violence against women from the discourse of human rights violations. In her address at this symposium, Susana recounted her tragic story, illuminating for the audience the depth and complexity of the problem as she shared the most personal details of her fervent search to uncover the fate of her daughter, who remains missing after eleven years.
For her remarkable contribution to the worldwide fight against the violation of human rights, as well as her tremendous strength of character and resilience in the face of adversity, Susana Trimarco was presented with the Sullivan Ballou Award following her address at the Erasures symposium, an award granted to human rights advocates whose work exemplifies the sincerity and generosity of its namesake, an Army Major named Sullivan Ballou who was tragically killed at the First Battle of Bull Run in 1861, yet whose spirit lives on through this award in his honor. As Susana continues in her fight, this award will serve as yet another symbol of her immense accomplishments, as the strength of character that has garnered it continues to define the ever-increasing momentum of her inspiring quest to end the trafficking of women in Argentina, to reunite long-devastated families, and to ultimately bring home her little girl.
Written by Jennifer Cafarella