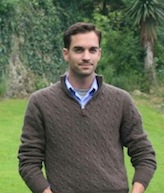 Corbin Treacy, a graduate student in French, has teamed up with the Human Rights Program in developing his dissertation research through the prestigious Interdisciplinary Doctoral Fellowship. Closely tied to human rights, Treacy's research integrates theories, methodologies and technologies from multiple disciplines to examine Algeria's tumultuous public life following the country's independence from France in 1962, exploring the landscapes of Algeria's political climate, economy, and intellectual culture, in addition to theories of memory, transitional justice, and historiography. Treacy particularly studies how literary works are shaped by cultural violence, and literature's capacity to reimagine and reshape culture, interrupting cycles of violence.
The University's Interdisciplinary Doctoral Fellowship requires the student to spend the fellowship year in residence at a host research center under the mentorship of a faculty member who is affiliated with the center and who is someone other than the student's formal adviser. Treacy found the Human Rights Program to be a fertile incubator for his ideas, providing him with networking opportunities and connections to other resources he otherwise would not have had.
The recently formed Holocaust, Genocide, Mass Violence Interdisciplinary Workshop, sponsored by the Human Rights program, constitutes such an opportunity, and proved to be the richest aspect of Treacy's fellowship year. While all of the faculty and graduate student participants were asking similar questions about what happens to communities in the aftermath of violence, they asked them from different disciplinary perspectives and with different conclusions, contributing to a rich and diverse learning experience. Opportunities to present and discuss his research in this interdisciplinary context, both formally and informally, were key to shaping his thinking during the fellowship year.
The rich dimension provided by such interdisciplinary work comes with both challenges and advantages. According to Treacy, talking to colleagues in other fields is the biggest challenge of interdisciplinary inquiry, as "different fields all have different frames of reference and different methodologies, which requires finding a common language for discussing one's work." But, this is also the biggest advantage: "Listening to how colleagues in other fields are grappling with similar questions has moved my own thinking in new and unexpected directions." Through his research, Treacy hopes to demonstrate the power of literature not only to represent the history and politics of a nation, but also to positively influence its future.
Treacy's mentor, IGS Senior Research Associate Leigh Payne, who was at Oxford University last year, provided him with valuable feedback on his work, and steered him to critical resources, via a virtual mentoring relationship. Treacy also credits Human Rights Program Director Professor Barbara Frey for contributing to the development of his research by meeting with him regularly throughout his fellowship year.
Visit the Graduate School
website
for more information on other work being undertaken by the University's Interdisciplinary Doctoral Fellows.
A complete list of the 2012-13 Interdisciplinary Doctoral Fellows, with information about their mentors, advisers, areas of focus and host research centers, is also available
online
.