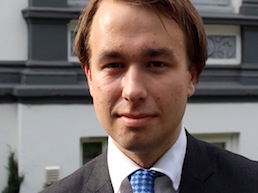 Lars Jørgen Røed, a senior majoring in Global Studies and Political Science and minoring in Russian, has applied his human rights education through an internship in Norway, working at the International Law and Policy Institute (ILPI), an independent institute focusing on good governance and international law. Providing research, support and trainings, ILPI has a wide range of clients including the Norwegian Ministry of Foreign Affairs, the Permanent Mission of Norway to the UN and the World Bank Group. The institute also offers human rights trainings, anti-corruption work, conflict analysis and monitoring.
Through his internship at ILPI, Lars provides research and analysis on a wide range of issues, including anti-corruption, disarmament, petroleum management and international human rigths law. He also does work with the ILPI Nuclear Weapons Project and the ILPI Centre for International Humanitarian Law, and has among other things contributed to an upcoming book on Nuclear Weapons and International Law. While working at ILPI, Lars will also be completing a PhD course on emerging Military Technologies at the Peace Research Institute Oslo (PRIO).
During his studies at the University of Minnesota he has worked with the Nobel Peace Prize Forum and the Center for Democracy and Citizenship, and has previously interned at the Oslo Center for Peace and Human Rights both in Norway and the US. His senior thesis, Ethnic Violence at Election Times, engages with the relationship between violence and freedom of speech in recent elections in Kenya. Lars has leadership experience from multiple boards and student organizations, and is currently serving his second year on the Student Advisory Board of the University of Minnesota Human Rights Program.
Written by Lars Jørgen Røed
Photo credit: Torbjorn Graff Hugo/ILPI