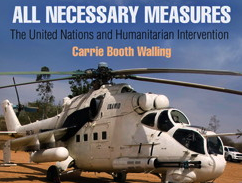 Carrie Booth Walling graduated from the University of Minnesota in 2008 with a PhD in Political Science and a minor in Human Rights. She currently works as an assistant professor of political science at Albion College where she teaches courses in human rights and transitional justice. An emerging voice in human rights scholarship, Walling recently announced the completion and publication of her book
All Necessary Measures: The United Nations and Humanitarian Intervention
, which examines the relationship between evolving human rights norms and state sovereignty, and also explores UN exercise of humanitarian intervention, particularly investigating the role of argument in shaping decisions to intervene on humanitarian grounds and shedding light on possible explanations behind the Security Council's inconsistency in calling for the use of military force during instances of mass atrocity.
In August, Walling's book
All Necessary Measures: The United Nations and Humanitarian Intervention
, Pennsylvania Studies in Human Rights series was published by the University of Pennsylvania Press. The book explores how human rights norms are changing the meaning of state sovereignty and the purpose of military force at the United Nations. More specifically it questions what prompts the United Nations Security Council to intervene forcefully in some crises at high risk for genocide and ethnic cleansing but not others. Walling identifies several systematic patterns in the stories that council members tell about conflicts and the policy solutions that result from them. Drawing on qualitative comparative case studies spanning two decades, including situations where the council has intervened to stop mass killing (Somalia, Bosnia-Herzegovina, Sierra Leone and Libya) as well as situations where it has not (Rwanda, Kosovo, and Sudan), Walling posits that the arguments council members make about the cause and character of conflict as well as the source of sovereign authority in target states have the potential to enable or constrain the use of military force in defense of human rights. Humanitarian intervention becomes possible when the majority of Security Council members come to a shared understanding of the conflict, perpetrators, and victims--and probable when the Council understands state sovereignty as complementary to human rights norms. By illuminating the relationship between national interests and the core values of Security Council members and how it influences decision-making, the book suggests when and where the Security Council is likely to intervene in the future.
Book review: http://www.upenn.edu/pennpress/book/15153.html.
Walling also recently completed work on The Human Rights Advocacy and History of Human Rights Standards website, a collaboration with Susan Waltz, human rights practitioner and Professor of Public Policy at the Gerald R. Ford School, University of Michigan. The Human Rights Advocacy and the History of Human Rights Standards website provides a valuable resource for students, instructors, researchers, and advocates. The website contains five subject areas: recognizing new human rights problems; accountability for human rights abuses; research and advocacy methods; making human rights policy decisions; and the future development of human rights. Together, these subject areas constitute an online guide through the global human rights movement and its role in international policy. The site also currently includes 14 topics, such as political rights, torture, government obligations, corporate accountability, and women's rights. Topics will expand as the site continues to develop.
Website: www.humanrightshistory.umich.edu