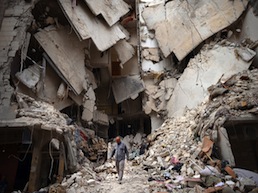 A Syrian student at the UofM, Salma Taleb, gives an inside look on the devastation unfolding in Syria, adding more demension to the panel discussion from last week, and shedding further insight on this profoundly complex conflict.
.
On September 11, 2013, the Human Rights program at the University of Minnesota held an important panel discussion. Countering Mass Atrocities in Syria: between Human Rights Ideas and Geo-Political Concerns. While the discussion revolved around politics and possible solutions to the Syrian conflict, the discussion of humanitarian support was also presented.
The political representation of the Syrian conflict in the media gives inadequate coverage of the extensive humanitarian suffering which is taking place. While humanitarian suffering is expected in a civil war, it is necessary that the human suffering of the Syrian people be recognized if the 'Syrian condition' is to be understood. The current situation in Syria is more complicated and more tragic than is being projected.
The majority of Syrian society is middle class. The middle class is comprised of both people who work for various governmental as well as nongovernmental institutions, many of whom are currently unpaid due to the bad economy, and blue collar workers, most of whom have lost their jobs, their houses and all too often, their families. Without wages those workers are left to suffer hunger, pain and misery without assistance. Although many blue collar workers have left the country to go to Lebanon, searching for work opportunities to survive, many more have stayed. Food prices have increased four-fold which makes food, when available, unaffordable for many. Electricity is shut off for many hours each day and perhaps most importantly, the people are suffering a severe water shortage because water pipes have been destroyed and because well water is very expensive to buy and hard to obtain. People in Salamieh a town 40 km from Homs have been without water for over 60 days now.
It is important to mention that Syria is still an agricultural society. However, farmers are not currently able to farm which means that because of the civil war they are not able to earn an income. There are many reasons for this. First, farmers are unable to get to their farms because many of the roads are too dangerous for travel. In most cases the roads are either governed by too many governmental check points, or are blocked by the opposition. Secondly, the farmers cannot afford the very high oil prices and are therefore unable to afford the costs associated with the use of their water pumps. Thirdly, there are safety and trust issues. Even if farmers are able to plant their fields, there are no guarantees that their crops will not be destroyed or stolen in the war!
Many students across the country are unable to attend school because their schools and universities have been destroyed. However, in some cities where the conflict is less intense even though the schools themselves may have remained intact, the students can no longer financially afford to attend. Similarly, the lack of medical care and supplies is pervasive in Syria. These shortages combined with the lack of water for adequate sanitation, the lack of adequate nutrition have led to the spread of disease especially among the children. Even though Doctors without Borders and other humanitarian institutions are trying to help, the need is out-weighing the resources. Many more issues could and should be discussed, but with the limitations I have, I hope that this will provide an enhanced understanding and a clearer perspective of the humanitarian tragedy posed by the Syrian civil war.
In the panel Professor Sarah Parkinson suggested some solutions that could help the Syrian people such as, a No Fly Zone through which the Syrian people might be able to get some of their basic needs. U.N institutions might be able to provide more aid to the people inside Syria. I would also add that donations from companies and other institutions and even individuals could help NGO's working on the ground in Syria which are trying to provide food, water and basic medical care to the many victims.
Salma Taleb