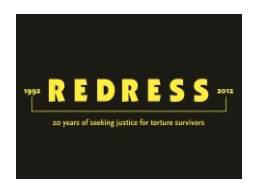 Kirsten Selvig, a University of Minnesota law student, has spent the summer interning with REDRESS, a London-based anti-torture organization. Funding from the Upper Midwest Human Rights Fellowship gave Selvig this invaluable opportunity to apply the skills she has learned at the law school in a real-world setting. Selvig primarily has been working on a report that provides an overview of the law and practice of torture on a global scale.
REDRESS
seeks legal remedies at the national and international levels. Some of the organization's international work includes bringing cases before the international criminal tribunals and regional human rights bodies, as well as introducing submissions to various United Nations bodies, such as the Committee against Torture, the Human Rights Committee, and the Working Group on Enforced and Involuntary Disappearances. The organization has also brought cases before national jurisdictions, ranging from the United States and United Kingdom to India, Peru, and Sri Lanka. At the grassroots level, REDRESS aims to provide assistance and expertise to victims groups around the world.
Selvig has provided research support for REDRESS's work on the international level. Her report on the law and practice of torture on a global scale covers the torture of Guantanamo Bay detainees, Tamil prisoners in Sri Lanka, and Russian human rights activists, as well as many other instances of torture worldwide. Selvig provides more general research support as well, often in the form of fact-finding, for various cases. Working with REDRESS has given Selvig firsthand experience in finding creative legal solutions where the organization faces evidentiary obstacles and non-cooperation from government officials. Selvig notes that her experience with REDRESS in terms of extensive researching and creative lawyering will serve her well wherever she ends up. This summer internship in particular has prompted her to more seriously consider policy work.
The Human Rights Center, one of the Human Rights Program's university partners, oversees the Upper Midwest Human Rights Fellowship Program. The Fellowship Program seeks to provide residents of the Upper Midwest, including graduate students, community leaders, lawyers, and health professionals, with the opportunity to intern with human rights organizations around the world. Click
here
to learn more about the Upper Midwest Human Rights Fellowship Program.
Written by Whitney Taylor.