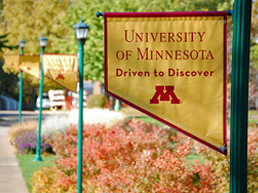 The
Interdisciplinary Doctoral Fellowship
(IDF) "awards outstanding Graduate School students with interdisciplinary dissertation topics who would benefit from interaction with faculty at one of the University's interdisciplinary research centers or institutes." Last academic year, two graduate students, Shannon Golden and Corbin Treacy, partnered with the Human Rights Program as part of this fellowship.
Golden explained that the fellowship provides fellows with the "chance to increase their network beyond their home discipline, to improve their research," noting that the IDF with the Human Rights Program gave her "an opportunity to cultivate relationships with scholars interested in human rights issues from a wide range of disciplinary backgrounds." Together, Golden and Treacy led a human rights networking and coffee hour, which brought together undergraduate students, graduate human rights minors, and faculty interested in human rights.
Over the past year, Golden worked with Alejandro Baer, Director of the Center for Holocaust and Genocide Studies, to organize a bi-weekly interdisciplinary workshop where graduate students and faculty who study genocide or mass violence were able to present and discuss their work. This workshop promoted engaging discussions, challenged us all to think beyond our disciplinary approaches, and facilitated the formation of interdisciplinary networks across the University. Both Treacy and Golden participated in the interdisciplinary workshop, presenting on their topics related to their dissertations, which focus on how literary imaginary responds to historical violence in Algeria and the impact of the International Criminal Court in Uganda, respectively.
In addition to her work on campus, Golden attended several conferences with the support of the fellowship, including the annual meetings of the Law & Society Association in June and the Arizona Methods Workshop in January. This fall, Golden will begin a one-year post-doc with the Kroc Institute for International Peace Studies at the University of Notre Dame. The IDF funding also gave Treacy the opportunity to participate in a wide range of academic activities, including conferences in Ireland, "Imaging Contemporary Algerias," and Madison, Wisconsin, "After the Violence." In addition, Treacy became an outside reviewer for the Journal of North African Studies and published two of his own articles in other peer-reviewed journals.
The Interdisciplinary Doctoral Fellowship is a great resource for human rights minors looking to challenge themselves to think creatively in an interdisciplinary way about human rights issues and to expand their connections both within and outside of the University of Minnesota community. Applications for the 2013-2014 fellowships are due November 15, 2013.
Written by Whitney Taylor.