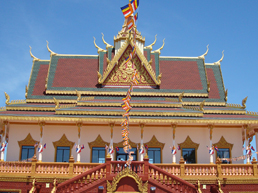 Lalinne Bell, the new Scribe for Human Rights, will focus her summer project on the Cambodian genocide and its impact on survivors. Bell, herself a survivor of the genocide, and her family have lived in the United States for 30 years as refugees. As scribe, she plans to research and write about her family's experience of genocide and assimilation. Bell will conduct interviews with her family members and other survivors, and her personal connection with her interviewees will give her writing a richly intimate quality as she explores the disconnectedness, distrust, and fear innate in Cambodian culture following the genocide.
Bell will expose through first-hand accounts how Cambodian families are still broken and need healing. Through her investigation, Bell hopes to highlight how genocide is not gone; the effects of its aftermath cut deep and echo across the world, and Bell asserts that not enough is being done to decisively end this practice.
The project will also focus on the process of assimilation and its effects. Bell came to the United States as a refugee when she was a small child, and a significant part of her life has thus been shaped by this process and the tensions it brings. She recalls feeling as though through assimilation, she had to leave much of herself behind, as prospering in the U.S. required her to be American and pursue the typical American definition of success. The American Dream is a driving force of assimilation, and Bell explores how this influenced her aspirations as a child and young adult.
Growing up in the projects, Bell experienced extreme poverty throughout her youth, but was determined to succeed and worked tirelessly to excel in school. After obtaining her Bachelor's degree, Bell continued to pursue the American Dream, and excitedly began work with a non-profit, reaching a level of financial security she had never known. However, after a dozen years of experience in the non-profit industry, Bell lost her passion for this work, becoming bored and apathetic. She had lost her passion for living in her search for the traditional and the stable, for the financial comfort of the American Dream. Bell refused to allow lethargy to overcome her, and when she was accepted into the University of Minnesota MFA program, she quit her job and made the difficult decision to sacrifice a reliable income for an artistic life.
Bell has always had a deep love for writing, as she believes it gives her a voice and helps her understand herself better. She views writing as empowering on both personal and societal levels, as she says, "writing gives people a voice, educates society, and ignites compassion. It allows people to express themselves honestly, and to reach out to others." To Bell, writing is a constructive tool of solidarity and builds individuals' capacity for bringing change.
In pursuing her degree in creative non-fiction writing, Bell has regained her passion for living and is pursuing her own dream, very different from the typical American Dream. Although the assimilation process forced Bell to leave much of herself behind, she hopes to rediscover this part of her through her writing and through the interviews she will conduct with her family, where she will explore both the beauty and the tragedy of her Cambodian past.
Written by Anna Meteyer.