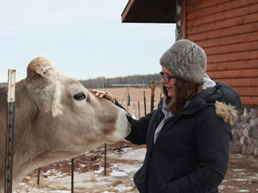 As I write this, I'm still coming down from the adrenaline rush of defending my MFA thesis, a book-length essay about the connections between spiritual contemplative practice and the evolution of solitary confinement in American prisons. Looking back, it's difficult for me to imagine what my thesis would have looked like had I not received support from the Human Rights Program through the Scribes for Human Rights Fellowship last summer. The financial support, contacts, and expertise I gained as a Fellow helped me to grasp the terrifying reality of solitary confinement through the impact it has on individual lives.
Over the summer, I made several trips to Illinois in order to investigate the controversy surrounding Tamms Correctional Facility, a super-maximum security prison where all inmates were held in isolation. In Chicago, I met with survivors of solitary confinement at Tamms, as well as with family members of current prisoners and other advocates and activists working to close the prison. I also travelled to Tamms, IL, a small town at the far southern tip of the state, where I spoke with community members who had come to depend on the super-max for economic stability. This research has become an important through-line in my manuscript.
The Scribes Fellowship allowed me to immerse my self in research at a critical time for efforts to end solitary confinement. Shortly before my fellowship began, the UN Special Rapporteur on Torture defined prolonged isolation as a form of torture. Mid-summer, Illinois Senator Dick Durbin chaired the first-ever Congressional hearing reassessing the practice. Perhaps most exciting to me, however, was the opportunity to witness the grassroots organizing success of the survivors and family members I met in Illinois--the super-max in Tamms did shut its doors this January. Working with the HRP helped me to understand the significance of each of these milestones.
I have spent much of the past academic year processing my Scribes research and integrating it with my explorations of solitude as a spiritual practice and the historical links between monasticism and incarceration. During this time, I've been lucky enough to continue working with Patricia Hampl as an advisor. Her encouragement and wisdom have been invaluable throughout the writing process. Staying involved with the HRP and the Midwest Coalition for Human Rights has been another great boon to my project, and to me. Thank you, Barb, Claire, Rochelle, and Whitney! I am so fortunate to have kept in touch with the movement to end solitary confinement while working on this book.
My thesis is not a final draft, but it is a critical step in that direction. I hope (and plan) to keep in touch with the HRP as I continue shaping the manuscript. In the meantime, I feel confident in saying that the Scribes for Human Rights Fellowship has made my project possible. I am extremely grateful.
To read more about Kathleen Johnston's work as Human Rights Scribe, click
here
.