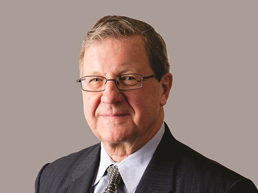 The Honorable Lloyd Axworthy, distinguished Canadian politician and current president of the University of Winnipeg, envisioned the future of humanitarian intervention before a crowd of students and community members on Tuesday, May 21. Axworthy's experience in the Canadian Foreign Ministry in the 1990s allowed him the opportunity to contribute invaluably the creation of the Mine Ban Treaty, the establishment of the International Criminal Court, and the
Responsibility to Protect
(R2P) doctrine--the subject of Tuesday afternoon's talk.
Axworthy likened serving in the Foreign Ministry to working as a plumber: if you fix a leak time and again, yet it keeps coming back, the problem must be structural. Having addressed grave human rights violations on an ad hoc basis for decades, Axworthy and others decided it was time to assess the structural conditions that gave rise to such abuses. The International Commission on Intervention and State Sovereignty's
report
on humanitarian intervention and the responsibility to protect does just that, offering directives for different types of interventions, from diplomacy to military intervention. Those promulgating the idea of humanitarian intervention challenge the conventional wisdom of international politics, giving primacy to human security rather than national security.
For Axworthy, R2P offers the chance to redefine the struggle for justice on the international level as well as to redefine global responses to crises, ranging from state terror and repression to drought and starvation. Blind adherence to a 360-year-old conception of state sovereignty has hindered the ability of the international community to respond effectively to the most pressing global challenges. A new framework based on R2P and human security would challenge politicians and diplomats to envision themselves as global citizens and reduce barriers to international involvement in times of need.
Following his presentation on the future of the responsibility to protect, Axworthy fielded audience questions on topics as diverse as the Keystone pipeline, the intervention in Libya, and the use of drones. Axworthy anticipates the next biggest challenges for human security in the 21st century to be the refugee crisis, climate change, and the prevalence of small arms and drones. Ending on a high note, Axworthy offered three hopes for the future: that a small standby force would be created for humanitarian intervention, that the United Nations would undergo further reforms, including a restriction of the veto, and that digital media would inspire the growth of world citizenship and global consciousness within members of the younger generation.
The Minnesota International Center sponsored Axworthy's visit as part of their series on Canada. Event co-sponsors included the Human Rights Program, the Interdisciplinary Center for Global Change, the Center for Victims of Torture, the Advocates for Human Rights, Nonviolent Peaceforce, and World Without Genocide. Earlier this week, Axworthy wrote an op-ed piece for the Star Tribune on Syria and R2P, which is available
here
.
Written by Whitney Taylor.