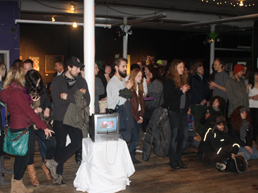 The
He(art) Show
, an annual art show that raises funds for different human rights organizations, took place this past Friday, April 19. This year, the event addressed LGBTQ discrimination in all forms, and featured dance and poetry performances, visual art pieces of many different mediums, and live music from a wide range of genres. The atmosphere was fun, colorful, creative, and supportive, the artwork was beautiful, and the performances were moving. Those who came enjoyed great company, good food, and creative inspiration, all while gaining a deeper understanding of the social justice issues surrounding LGBTQ rights and of the destructive and sometimes devastating consequences of homophobia and transphobia. Proceeds from the event, totaling over $1,300, were donated to the Minnesota Transgender Health Coalition, an organization committed to improving health care access and the quality of health care received by trans and gender nonconforming people through education, resources, and advocacy.
The He(art) Show once again succeeded in showing us how art can be used as a deeply effective means of human rights advocacy. Through the many performances and diverse visual art pieces, the He(art) Show demonstrated how art has an incredible capacity to open up a progressive and inclusive dialogue within a community, and to act as an avenue for positive change. Art also is a means of empowerment, giving courage and a voice to the vulnerable and voiceless. The deeply personal dimension of art gives it the ability to describe the human experience in a way words cannot accomplish, transcending and dissolving societal barriers. The He(art) Show was an inspiring and deeply moving experience for all who attended. A sincere thanks goes out to all who helped in organizing and executing this wonderful event, especially to Ashley Probst and Ashley Monk. We all look forward to attending again next year!
Written by Anna Meteyer.