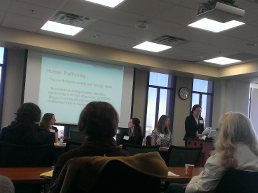 Faculty, staff, and students gathered on April 4th and 5th to participate in the first annual Undergraduate Interdisciplinary Conference (UIC), hosted by the Department of Spanish and Portuguese Studies and the Institute for Global Studies. The conference provided students a unique opportunity to showcase their own work and discuss with others what they are working on. Students presented on a range of topics, from sex trafficking in Eastern Europe to Orientalism and the Middle Eastern Cold War to ethanol production in Brazil. Many focused on topics related to human rights and social justice, which is not unexpected: "The study of human rights is one of the signatures of global studies at the University of Minnesota," said Evelyn Davidheiser, Director of the Institute for Global Studies.
The two-day conference featured 31 students, who each gave short presentations of their research and participated in a panel discussion moderated by a faculty member from Global Studies or Spanish and Portuguese Studies. The panel discussions allowed presenters to discuss with others overarching themes and reflect on how to expand their own work. A highlight of the conference was keynote speaker
Karina Ansolabehere
, a visiting professor in the Institute for Global Studies. A leading voice in the academic study of human rights and democracy in Latin America, Ansolabehere spoke about future challenges for human rights in Mexico. The first annual conference was a success, and preparations are being made to hold another undergraduate conference in the spring of 2014.
Written by Wren Bentley and Whitney Taylor.