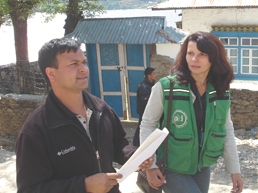 On March 27th, the Human Rights Program had the privilege of hosting Mr. Jitman Basnet, a devoted and honorable human rights lawyer and journalist from Nepal, to speak to U of M faculty, staff and students about his experiences as an activist and torture survivor. Mr. Basnet has been working for human rights and transitional justice for fifteen years in Nepal, and has witnessed first-hand the devastating consequences of the civil strife there, whose affects continue to resonate seven years after the conflict's end. Because of his stand against violence and repression during the war, Mr. Basnet suffered detention and severe acts of torture by both sides of the conflict. He was witness to extreme violence at the hands of the Maoist rebel forces, and to army atrocity, torture, mistreatment, enforced disappearances, and killings of detainees in the army barracks.
Upon his release from 258 days of incommunicado detainment by the army, Mr. Basnet worked to save twenty-nine disappeared civilians who had been illegally and secretly detained with him. His unfathomable courage, his incredible commitment to human rights, and his deep loyalty to humanity propelled Mr. Basnet to continue his human rights activism even following his subjection to extreme violations. He persisted in providing eyewitness testimony and helping to direct an invaluable documentary that exposes to the world the terrible atrocities suffered by Nepalese citizens during and following the civil conflict there. The documentary will act as an archive that the brutalities of the war will not be forgotten and that this history will not be repeated. In 2005, after receiving multiple death threats, Mr. Basnet went into exile in India for eighteen months, where he continued to support Nepal's democratic movement.
In his talk, Mr. Basnet described both his past experiences during the conflict and his current work to bring true peace to Nepalese society. Following the atrocities of the civil war, a dominant atmosphere of impunity threatens Nepalese activists' efforts to bring justice and healing to the nation. Violence against women, disregard for press freedom and freedom of expression, and the absence of rule of law persist in the country, and human rights advocates continue to face severe danger. Despite these challenges, Mr. Basnet contains a persevering hope in his country and in humanity as a whole. His enduring love and devotion to humankind following his own first-hand experience of unfathomable cruelty is stunning and humbling. We are immensely grateful to Mr. Basnet for making the journey to Minnesota to share his heartbreaking story, his inspiring will to bring positive change, and his profound hope with us; his words certainly moved all of those who attended.
Mr. Basnet came to speak at the U of M with the help of
Peace Brigades International
(PBI), an organization that strives to create a symbolic, non-violent, non-partisan barrier between human rights activists and dangerous oppositional forces that threaten them with serious harm. Through their interaction with Mr. Basnet, PBI has worked tirelessly to keep him safe and to facilitate his efforts as an advocate.
Written by Anna Meteyer.