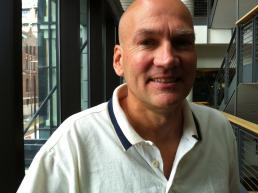 The University of Minnesota had the honor of hosting alumnus and guest speaker Greg Brown on Thursday, March 28th. Brown recently retired from his position as senior personnel administrator in the Department of Defense, and he returned to campus to talk with students and faculty about the 1993 "Don't Ask, Don't Tell" (DADT) policy regarding homosexuality within the United States Armed Forces. Brown played a leading role in one of the most significant domestic human rights achievements of the last 20 years: the dismantling of the "Don't Ask, Don't Tell" policy.
The DADT policy prevented openly gay and lesbian individuals from serving in the United States military. They had to keep it a secret or risk discharge. Brown noted that this policy "locked the U.S. in the dark ages." This backwards thinking forced well-meaning officers to choose between following the law and looking the other way when it came to LGB in their troops. As DADT was a tough and controversial subject, Congress was reluctant to move toward changing the policy.
Brown spent 24 years working with the United States Air Force, and, in 2008 he was assigned to the Office of Secretary Defenses Personnel. Brown is a happily married man, whose wife also served in the US military. He said he had always been "not anti-gay," and when DADT first came out, he thought it was plausible and valid when it came to military and social science. But soon he realized that being "not anti-gay" was not enough. Brown remembers a turning point in his views on DADT, when he was stationed in Korea. A fellow colleague of his came to him one day and told him that he was gay, and that he did not want to continue working for the military anymore because of the pressures of DADT. His colleague asked to be discharged, and Brown granted him this, but was upset that the military had lost a talented employee over such a case. "This began my self discovery that being 'not anti-gay' was not enough," Brown said.
Brown recalled that prior to the change in administrations in 2009, "Nobody wanted to touch this issue, they feared it would put their jobs on the line." Brown then decided to take on the issue himself. He decided to work for the repeal of DADT in part because he felt the military was narrowing their chances of getting talented, dedicated people to work for them. One of his jobs while working as senior personnel administrator was to attract and retain talented people for the military. DADT excluded a segment of the population, which other competitors without anti-gay policies could take advantage of.
The struggle to show that DADT was a harmful policy that needed to be repealed took two and a half years. Brown believes in a "right is right" approach, and he knew that repealing the policy was the right thing to do politically and ethically, but was still unsure if it was the right thing to do military-wise. During his first year of working on the repeal, he was the one and only person taking on the task. Brown often felt like he had bitten off more than he could chew. The military thought his views were "too pro-gay," and the gay community thought his views were "too pro-military." However, by 2010, the momentum started and Brown felt like his appeal had a chance. More people worked on the repeal alongside Brown, and, in 2011, DADT was dismantled.
Now that DADT has been dismantled, openly LGB individuals can serve in the U.S. military. Brown says that in terms of recruiting more LGB to the military, "It will take time for them to trust the military again. But I one day hope that the US military will be posted in the New York Times as gay friendly workplace."
Written by Wren Bentley