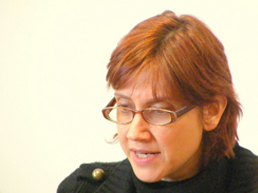 During a presentation to the undergraduate class "Law and (In)Justice in Latin America" on Tuesday, March 6, visiting professor
Karina Ansolabehere
characterized the Mexican criminal justice system as one bent on social control rather than accountability, rights-protections, social reconstruction, or even retribution for crimes committed. Despite a significant reform effort in 2008, which had been encouraged by both human rights activists and those involved in criminal law, the system remains highly inefficient and fails to provide rights protections.
A non-governmental organization,
Renace
, has collected extensive documentation of the pitfalls of the criminal justice system in Mexico. Renace estimates that only 15% of crimes are reported to authorities, as 80% of the population distrusts the criminal justice system. About 90% of the time, cases are built solely on confessions rather than diverse sources of evidence, in a system in which there is no protection against coerced confessions. 95% of the time, the accused individual is found guilty, a startling high percentage. Around half of those incarcerated are awaiting trial and have not been convicted of any crime. Access to adequate legal counsel continues to be a pervasive problem.
As such, reform was seen as necessary from both a criminal law approach and a human rights perspective. The criminal justice system disproportionately convicts the poor, suffers from an overall lack of professionalism, and is extremely inefficient. Moreover, the institutional structure of the system, particularly with regard to arrest quotas for the police and prosecutorial reliance on confessions, encourages overly harsh treatment and even torture of those arrested. Torture occurs throughout the criminal justice system in Mexico, and following the militarization of the fight against drug cartels, the use of torture increased dramatically.
The 2008 reform actually had two sides: one that addressed some of the shortcomings of the criminal justice system and one that created a state of exception for organized crime. The danger of this state of exception becomes apparent when considering the loose definition of organized crime. Any time a group of three or more people engages in any criminal activity, it counts as organized crime. This means that whether the three people involved had conspired to engage in drug trafficking or to paint graffiti, both count as organized crime. Positive reforms have encouraged the switch from a private, written inquisitorial procedure to one that is more transparent and offers more substantial rights guarantees. The reform implementation process was anticipated to extend into 2016, but it appears reform efforts have stagnated on the federal level, as political will has all but disappeared.
The limited reforms that were actually implemented have not addressed the institutional factors that have rendered the Mexican criminal justice system both ineffective and criminal in and of itself. Those innocent of any crime appear more likely to be arrested, tortured, and imprisoned than those actively participating in organized crime. Legal recourse for those who have been subject to unfair trials or mistreatment in the criminal justice system remains elusive.
Written by Whitney Taylor.