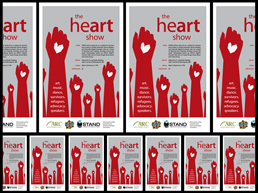 The 3rd Annual He(art) Show will be held on April 19, 2013 at The Friction Collective in Minneapolis. The show will feature work from all art media and will include performances by local bands, as well as guest speakers and activists that are working to eliminate LGBTQ discrimination. Proceeds from the show this year will benefit the Minnesota Transgender Health Coalition. All submissions are due by March 19. Continue reading to see more information about how to submit artwork or volunteer at this year's He(art) Show.
To submit work, please email Ashley Monk (monkx021@umn.edu) with:
-Image of the work you're submitting. Please include: Title, Dimensions, Medium, Suggested Price or Not For Sale (If you are submitting new work/work in progress, please send examples of past work)
-Brief artist statement and brief bio (1 paragraph or less for each please!)
For inquiries about becoming a donor, sponsor, or partner, please contact Ashley Probst (probs024@umn.edu)
For more information about the He(art) Show, click
here
.
The He(art) Show is co-sponsored by the Human Rights Program and World Without Genocide (formerly STAND).